National Transfer Accounts
The National Transfer Accounts (NTA) project is developing a system to measure economic flows across age groups in a manner consistent with National Income and Product Accounts. The accounts measure how each age group produces, consumes, shares, and saves resources. Two forms of economic flow are distinguished, transfers between age groups and the use of assets accumulated earlier in life. These flows arise primarily because of a fundamental feature of the economic lifecycle: children and the elderly consume more than they produce through their labor. NTA provides estimates of the components of the economic lifecycle and the interage flows that inevitably arise. These flows occur through government programs and through families and other private institutions.
When complete National Transfer Accounts will provide estimates with sufficient historical depth to study the evolution of intergenerational transfer systems; the consequences of alternative approaches to age reallocations embodied in public policy with respect to pensions, health care, education and social institutions, e.g., the extended family; and the social, political, and economic implications of population aging.
---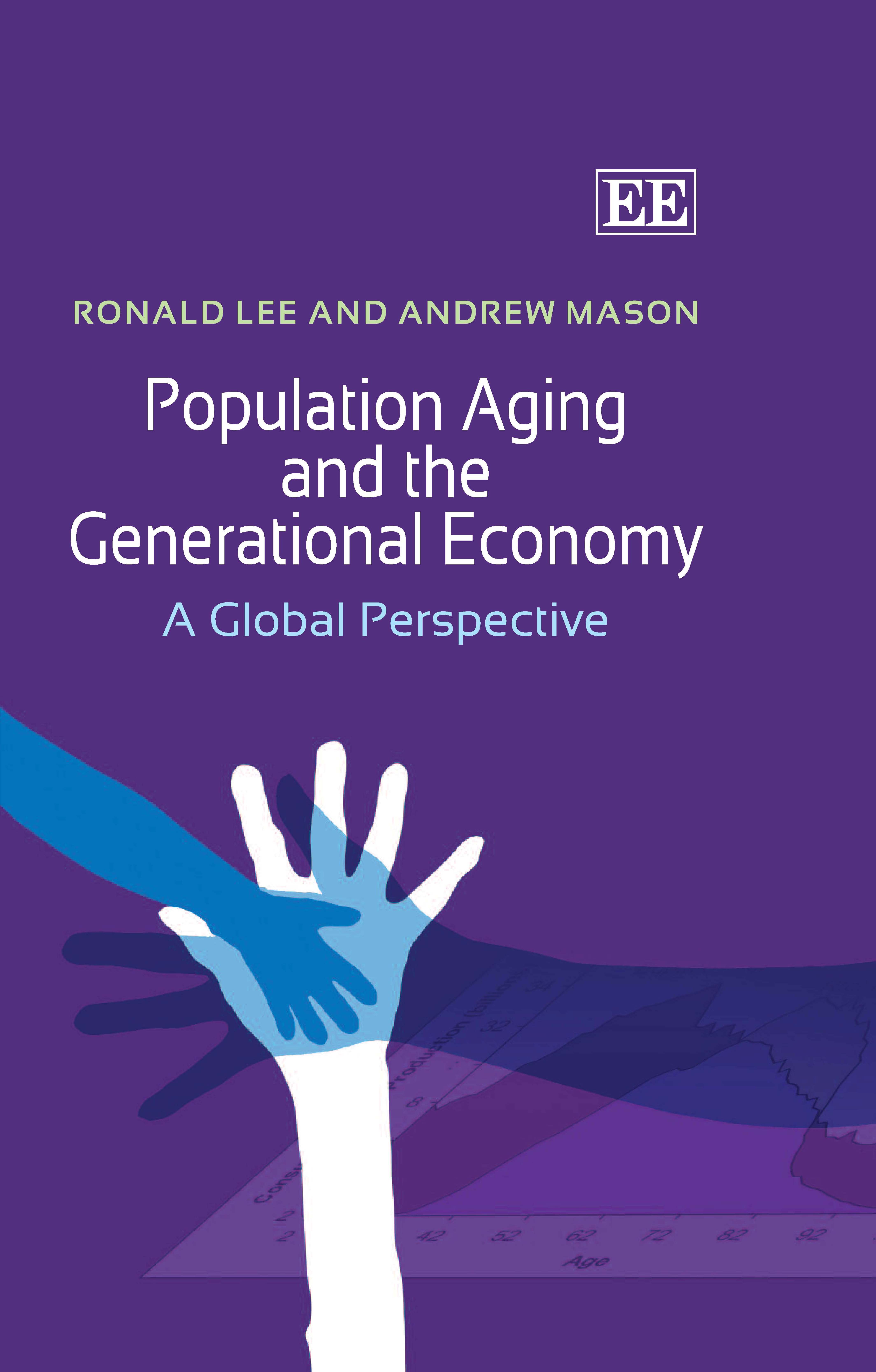 Population aging and the generational economy: A global perspective
Ronald Lee and Andrew Mason, lead authors and editors
Update: Paperback release Population aging and the generational economy has been published in paperback. To purchase or download:
Update: NTA book selected as an Outstanding Academic Title for 2012
Population Aging and the Generational Economy was selected as an Outstanding Academic Title for 2012 by Choice Magazine, widely used by academic librarians in the US. The awards are chosen based on the best reviewed titles during 2012. The book will also be part of an exhibit of the Outstanding Academic Title winners at the American Library Association's Mid-winter Conference in January 2013.
More information about: Population aging and the generational economy: A global perspective.
---
NTA Bulletin - Bulletin 5.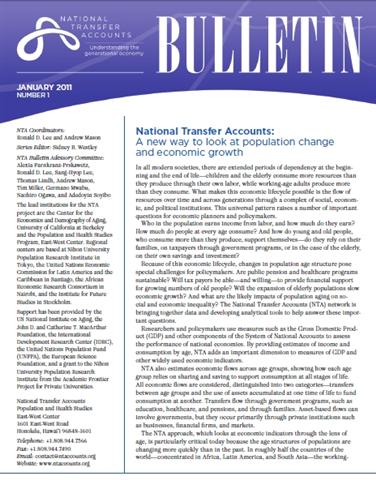 The NTA Bulletin #5 is now published: "Lower-income countries and the demographic dividend"
Summary: Over the past 60 years, population age structures have been changing everywhere in the world. As the share of national populations at working ages has grown relative to the share of dependent children, many of the world's fastest-growing economies have enjoyed a substantial demographic dividend that has helped accelerate economic growth. Eventually, the share of the working-age population goes down, and the elderly portion of the population goes up. Improvements in life expectancy reinforce the effects of low fertility to produce populations that are much more concentrated at older ages.
This stage of population aging can act as a brake on economic growth because the number of consumers is growing more quickly than the number of workers. Alternatively, if resources generated by the first demographic dividend are invested in physical capital and in children's health and education and if workers save and invest to provide for their own retirement costs rather than drawing on the resources of younger generations, then population aging may generate a second demographic dividend. That is, the processes of fertility decline and population aging can promote economic growth by raising the amount of physical and human capital per worker.
Lower-income countries with large child populations will not achieve a demographic dividend until birth rates decline and age structures shift away from a pattern that is dominated by large numbers of children. Investment in the health and education of each child is also important to boost the productivity of future workers. In addition to high fertility, many lower-income countries face high unemployment or underemployment among young adults. Policies and programs that improve labor participation rates and labor income are critical, particularly for young workers who comprise large segments of these populations. And finally, it is not too soon to think about the economic consequences of population aging.
NTA Bulletin 5, December 2012. Download at: NTAbulletin5.
See more at NTA Bulletin including summaries and links to all issues.
---
Public Release of NTA Country Summaries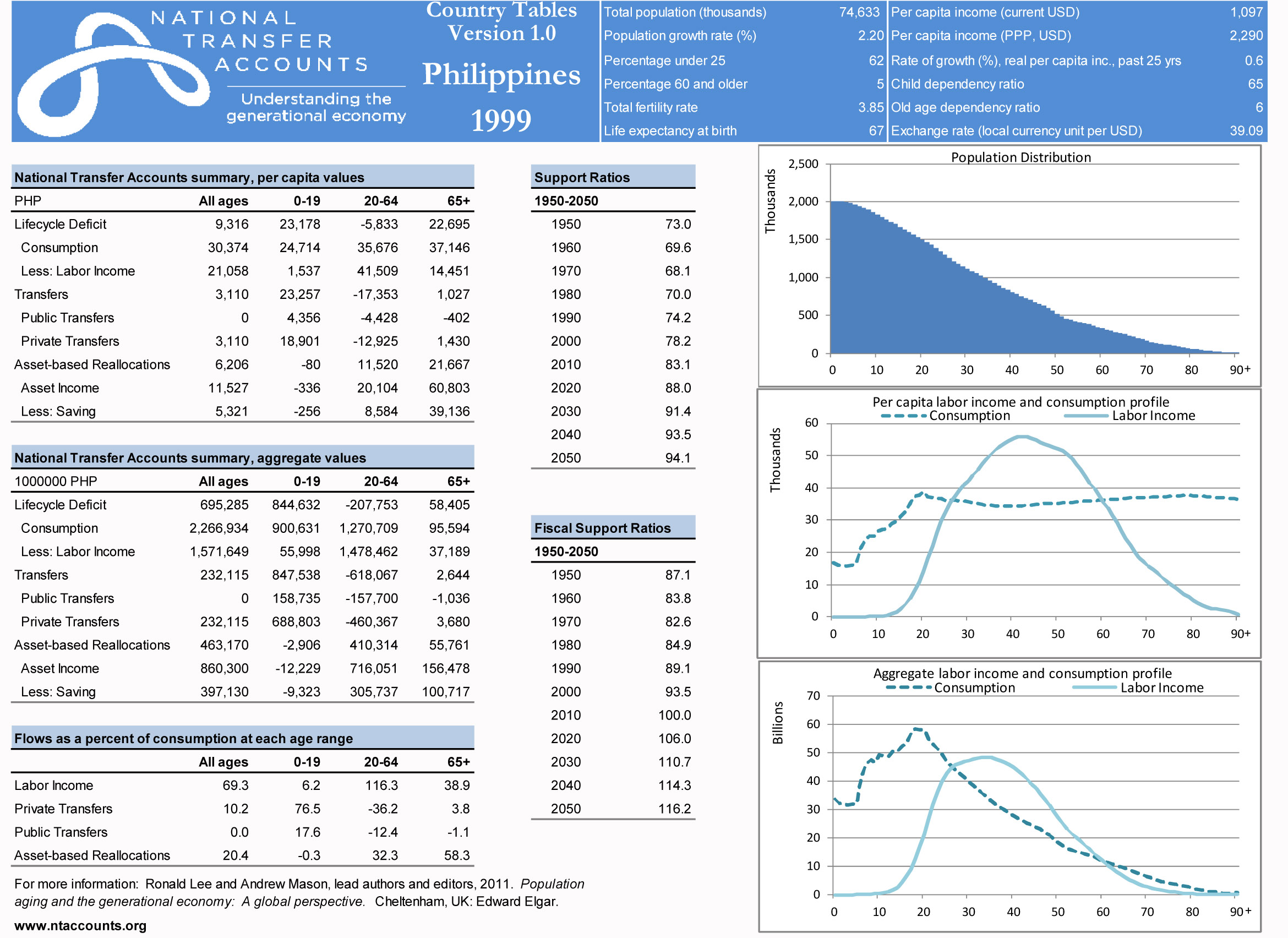 The NTA project has released Country Summaries for selected NTA countries (more will be added as are completed). The summaries include country information sheets, and detailed spreadsheets. This, and future data releases can be found under the "NTA Data" link in the menu on the left.
---
Public Release of NTA Lifecycle data

The NTA project has released consumption and labor income data for 23 countries. To download the data in excel format, and to see interactive visualizations, click the following link:
Consumption and Labor Income Profiles Release
This, and future data releases can be found under the "NTA Data" link in the menu on the left.
---
NTA research being presented at important international events
The HHA Conference (A conference of African Ministers of Finance and Health) extensively featured NTA research in their session titled "Seizing the Demographic Dividend Now: A One-Time Opportunity for Africa". Click on the link for more information and downloadable presentations.
The United Nations Conference on Sustainable Development (Rio 20+) took place in Rio de Janeiro, Brazil, in June 2012. World leaders, along with participants from governments, the private sector, NGOs and other groups, discussed poverty reduction, social equity advancement, and environmental protection. The Conference had two themes: "a green economy in the context of sustainable development poverty eradication", and "institutional framework for sustainable development".
UN Commission on Population and Development – New York
The forty-fifth session of the UN Commission on Population and Development dealing with issues of population and development, focused on adolescents and youth. These sessions contribute substantively to the on-going deliberations of the United Nations in the economic and social development field. This year over 500 NGO representatives also participated. One of the keynote speakers was Andrew Mason, whose presentation "Adolescents and youth: their numbers and economic roles" is available here: CPD45_Keynote_Mason.
CDESG meeting at Canadian Economic Association
An Ageing in Development Panel by the Canadian Development Economics Study Group (CDESG) took place at the Canadian Economics Association meeting on June 9, 2012. The panel provided an overview of a framework to quantify economic flows across generations as well as insights on how population ageing will affect economies in the developing and developed world. Panel members were Andrew Mason, Tim Miller, and Mostafa Askari (Assistant Parliamentary Budget Officer, Economic and Fiscal Analysis, Canada). Their presentations are available here:
Mostafa Askari - Economic and Fiscal Impacts of population Ageing in Canada (link: Mostafa Askari CEA Presentation - Calgary 2012)
Andrew Mason - Population Aging and the Generational Economy: A Global Perspective (link: Andrew Mason - Calgary Seminar)
Tim Miller - Population Aging in Latin America and the Caribbean: A New Era (link: Tim Miller Calgary presentation June)
Conference of Montreal
The 2012 Conference of Montreal took place from June 11 to June 14, 2012. It's theme was "A Global Economy in Transition: New Strategies, New Partnerships", and addressed subjects such as the economic and financial crisis, the accessibility innovations in the health sector, the equitable use of resources, welcoming immigrants, the free trade agreements and sustainable development. Andrew Mason participated in the forum "Demographic Shifts: Threats or Opportunities?".
Shanghai Forum 2012
Shanghai Forum is an international economic forum hosted by Fudan University and sponsored by The Korea Foundation for Advanced Studies. The goal of the forum is to engage leaders in all fields to dialogue and collaborate to provide perspectives and advices for Asia's overall economic, political, social, and cultural progress. The theme of the 2012 conference was "Economic Globalization and the Choice of Asia: Strategies for 2011-2020". Ron Lee presented at the conference: "Is Fertility Too Low? Capital, Transfers, and Consumption" (link: Ron Lee presentation Shanghai).
European Population Conference
The European Population Conference took place in Stockholm, Sweden, June 13-16. Gretchen Donehower and Ivan Mejia are presenting at the conference.
Gretchen's presentation (with Ivan Mejia) is titled "Everybody Works: Gender, Age and Economic Activity" and is available here: Donehower_Mejia_Presentation
Ivan's presentation (with Alma Vega) is titled "Opportunity costs: The fiscal cost of (not) educating immigrant minors in the U.S." and is available here: epc-2012_alma
Poster session: "Socioeconomic Differences in the Distribution by Age of Public Transfers in Mexico" available here: poster_EPC
See more presentations at Meetings and Presentations
---
NTA Data Sheet A summary of the project's finding with selected tables and graphs is now available in the form of wallchart. Download the NTA Data Sheet.
---
Presentations

In July 2012, Ronald Lee gave a presentation at the NBER Summer Institute on the topic of aging and social security. The presentation focused on USA NTA, but with international comparisons. Download the full presentation here: LeeMasonNBERSummerInstitute
In May 2012, Paulo Saad gave a presentation in Cuba at the Universidad de la Habana on "Demographic Change and Intergenerational Transfers: Latin America and Cuba." See here for report published about the meeting (in Spanish): Paulo_Saad_INFOPOB_V_2_2012
In April, Andrew Mason and Ronald Lee gave a talk at the Woodrow Wilson International Center for Scholar. The title of their presentation was "Dividend or Deficit? The Economic Effects of Population Age Structure." See here for abstract and the video of the presentation.
The Austrian team recently gave some presentations on the Austrian NTA and it has also been reported as one of the subjects of the month at the Austrian Academy of Sciences. Link to the report (in German).
See more presentations at Meetings and Presentations
---
In the News
NTA members Naohiro Ogawa, Mathana Phananiramai, and Andrew Mason were featured in an article in The Nation titled "Care for elderly but avoid errors". The article emphasizes that nations will face problems as "the result of maintaining a decades-old retirement age without changing it to match the longer life expectancy", and that "proper planning and an appropriate financing scheme are key [...] to achieve a sustainable scheme to support its ageing population".
An editorial article in Thailand's The Nation features NTA, and some thoughts on the lifecycle deficit.
Dr. Narayana wrote an article for The Deccan Herald titled "Can Universal Pension Scheme Work?". It contributes to current public debates on universal pension scheme at the state level in India with emphasis on usefulness on NTA methodology and a need for its construction in the 12th Five Year Plan.
An essay by Ronald Lee and Andrew Mason appeared in Global Trends 2030, a blog sponsored by the National Intelligence Council (NIC). The essay, titled Population Aging and the Welfare State in Europe compares Sweden, Germany, and Spain in the context of their demographic change and support systems.
Comments by Dr. Andrew Mason were featured in an article in The Express Tribune on August 19th, 2012, titled Pakistan unable to profit from youth bulge: Study. The article discusses a paper by political economist Dr S Akbar Zaidi, who looks at the demographic transition in Pakistan. " According to the paper, the number of people in the young age group (15-49 years) and the total labour force are projected to nearly double by 2050. This requires a growth strategy that focuses on creating employment and have high employment elasticity, but the paper notes that economy and policy-making are currently unable to profit off this 'dividend' of demographic transition."
M. R. Narayana published an article in India's national newspaper The Business Line. It is titled Pensioners aren't having a free lunch and it contributes to current public debates on universal pension scheme for unorganized workers by using NTA methodology.
Andrew Mason wrote an article for China Daily titled How to meet population challenges. It features NTA estimates showing how low labor income is among middle-aged adults in China as compared with India and other Asian countries.
More at NTA in the news
---
Benin joins the NTA Project
We welcome Barthélémy Biao, Idossou Jean-Baptiste Oga, Dètondji Camille Guidime, Bachir Olatoundji Souberou, and Assogba Hodonou to our project. The key institution for Benin will be the University of Parakou.
New Peru NTA team
We welcome Carlos Aramburu and Janina Virginia Leon Castillo to our project. They join current member Javier Olivera.
Poland joins the NTA Project
We welcome Agnieszka Chlon-Dominczak, Anita Abramowska-Kmon, Irena Kotowska, and Strzelecki Andrzej to our project. The key institution for Poland will be announced later.
Cambodia joins the NTA Project
We welcome H.E. San Sy Than, H.E. Tuon Thavrak, Ms. Hang Lina, Mr. Theng Pagnathun, Mr. Poch Sovanndy, Mr. Nor Vanndy, Mr. Khim Fadane, Mr. Yim Saonith, and Mr. Keo Bun Chhav to our project. The key institution for Cambodia is the National Institute of Statistics, Ministry of Planning.
El Salvador joins the NTA Project
We welcome Ricardo Córdova Macías and María Elena Rivera Sarmiento to our project. The key institution for El Salvador is Fundación Dr. Guillermo Manuel Ungo (FUNDAUNGO).
France re-joins the NTA Project
We welcome Hippolyte d'Albis, Carole Bonnet, Elena Stancanelli, and Francois-Charles Wolff. The key institution for France will be announced later.
Turkey joins the NTA Project
We welcome Aylin Seckin and Patrick Georges to our project. The key institution for Turkey is Istanbul Bilgi University.
Vietnam joins the NTA Project
We welcome Dr. Nguyen Lan Huong and Dr. Giang Thanh Long to our project. The key institution for Vietnam would be the Institute of Labour Science and Social Affairs.
Italy joins the NTA Project
We welcome Graziella Caselli, Francesco Candelor Billari, Annunziata Nobile, Emilio Zagheni, and Marina Zannella to our project. The key institution for Italy would be the University of Rome.
---
Recent Publications
Dramani, Latif and Fahd Ndiaye. Estimating the First Demographic Dividend in Senegal: The National Transfers Account Approach. British Journal of Economics, Management & Trade. 2(2): 39-59, 2012. Dramani and Ndiaye 2012[info]
Sánchez Romero, Miguel, Concepció Patxot, Elisenda Rentería and Guadalupe Souto, 2012. On the effects of Public and Private Transfers on Capital Accumulation: Some Lessons from NTA Aggregates. Journal of Population Economics, published online: 30 May 2012. http://www.springerlink.com/content/q3831142t0452524/
Patxot, Concepció, Elisenda Rentería, Miguel Sánchez Romero and Guadalupe Souto, 2012. Measuring the balance of government intervention on forward and backward family transfers using NTA estimates: The modified Lee Arrows. International Tax and Public Finance, v. 19 n. 3, 442-461. http://www.springerlink.com/content/t81701677n253424/
Patxot, Concepció, Elisenda Rentería, Miguel Sánchez Romero and Guadalupe Souto, 2011. Integrated results for GA and NTA for Spain: some implications for the sustainability of welfare state. Moneda y Crédito, n. 231, 7-52. Fundación Banco Santander, Madrid. Patxot_etal2011_MyC[info]
Lee, Sang-Hyop and Andrew Mason. 2011. "International Migration, Population Age Structure and Economic Growth in Asia." Asian and Pacific Migration Journal, 20(2): 195-213. SHLAMAPMJ[info]
Narayana, M.R. 2011. Lifecycle deficit and public age reallocations for India's elderly population: evidence and implications based on National Transfer Accounts. Journal of Population Aging, June.
To see other papers, go to Publications section.
---
---
Support for this project has been provided by the National Institute on Aging: NIA, R01 AG025488 and NIA, R37 AG025247; the John D. and Catherine T. MacArthur Foundation; the International Development Research Center (IDRC); the United Nations Population Fund (UNFPA); and the Academic Frontier Project for Private Universities: matching fund subsidy from MEXT (Ministry of Education, Culture, Sports, Science and Technology), 2006-10, granted to the Nihon University Population Research Institute.
The website was developed and is maintained by SchemeArts.