National Transfer Accounts: Understanding the Generational Economy
The goal of the National Transfer Accounts (NTA) project is to improve understanding of how population growth and changing population age structure influence economic growth, gender and generational equity, public finances, and other important features of the macro-economy. Research teams in more than 60 countries are constructing accounts that measure how people at each age produce, consume, and share resources, and save for the future. These accounts are designed to complement the UN System of National Accounts, population data, and other important economic and demographic indicators.
The NTA project is shedding light on many areas of importance to policymakers:
Public policy on pensions, health care, education, and reproductive health
Social institutions, such as the extended family
The full economic contribution of women
Social, political, and economic implications of population aging
---
---
---
---
Demographic Dividends Featured in SDGs: Transforming Our World
The United Nations Association-UK has just released a comprehensive report and website that provide analysis and recommendations on achieving the Sustainable Development Goals. The report includes an article on demographic dividends authored by Andrew Mason and Sang-Hyop Lee. Mason and Lee argue that "Progress toward achievement of the Sustainable Development Goal (SDG) targets is closely linked to demographic trends.... The goal should be to establish public programmes that provide some basic level of security but that can be sustained in the years ahead."
NTA Book Published in Farsi
| | |
| --- | --- |
| | Our NTA colleagues, Majid Koosheshi and Leili Niakan, have recently published the NTA classic, Population Aging and the Generational Economy, in Farsi. The Farsi version of the book is available on the NTA website. |
Statistics Korea Releases NTA Data
For the first time, Statistics Korea has made data from the National Transfer Accounts available as a component of official government statistics. The data, which show how finances are redistributed between age groups, will be used as a basis for developing national pension and health insurance policies. Korean media announced the release on 22 January 2019. See The World on Arirang.
NTA Network Elections
Congratulations to the all those elected to serve as officers, members of the Executive Council, and members of the Nominating Committee. The officers for 2018-2020 are:
Chair: Sang-Hyop Lee
Vice-Chair: Gretchen Donehower
Secretary: Iván Mejía Guevara
The members of the Executive Council and the Nominating Committee and can be found at Governance.
---
12th Global Meeting of the NTA Network: Opportunities and Challenges of the Demographic Transition for Meeting the 2030 Agenda and the Sustainable Development Goals, Mexico City, July 23-27, 2018

Agenda and Presentations
Click on each day to see the full agenda and presentations.
After welcoming remarks, Day One began with a panel discussion on Opportunities and Challenges of the Demographic Transition for Meeting the 2030 Agenda, the SDGs, and the Montevideo Consensus on Population and Development. Presentation sessions then included:
The demographic situation and NTAs in Mexico
Investment in childhood, adolescence, and youth
Gender dividend: Make women's work count
Population aging and its economic consequences
Presentation sessions on Day Two covered:
Historical perspective through NTA
Future projections
Methodological and technical innovations
Population impacts over time
Lifecycle deficits over time
Training workshops covered:
Longitudinal NTA analysis
New to NTA
NTA by sex and NTTA
Presentation sessions on Day Three covered:
NTA, socioeconomic status, and inequality
Integrating market and household economies
NTA within nations: Geography and group
New results from National Time Transfer Accounts
Older persons through the NTA lens
Training workshops covered:
NTA by SES
Lifecycle deficit
On Day Four, presentation sessions covered:
Research for age-aware policymaking
Gender dynamics of demographic dividends
Results from National Demographic Dividend Observatories
Education and demographic dividends
NTA in policy frameworks
NTA and social protection systems
There was a panel discussion on NTA and Public Policy.
Training workshops covered:
"Selling" NTA: The elevator speech
Transfers
Presentation sessions on Day Five covered:
Wealth transfers
Gender dynamics and the economic lifecycle
Intergenerational equity
Where will the workers come from?
Human capital, assets, and growth
Training workshops covered:
Generational Wealth Accounts
Asset-based reallocations
This last day also included a general membership meeting.
Photo Gallery
Photos from Day One Provided by CONAPO
Photos taken by Sidney Westley
Workshop on Effective Use of Data for Policy Making on Aging, Chiang Mai, Thailand, 5-7 December 2017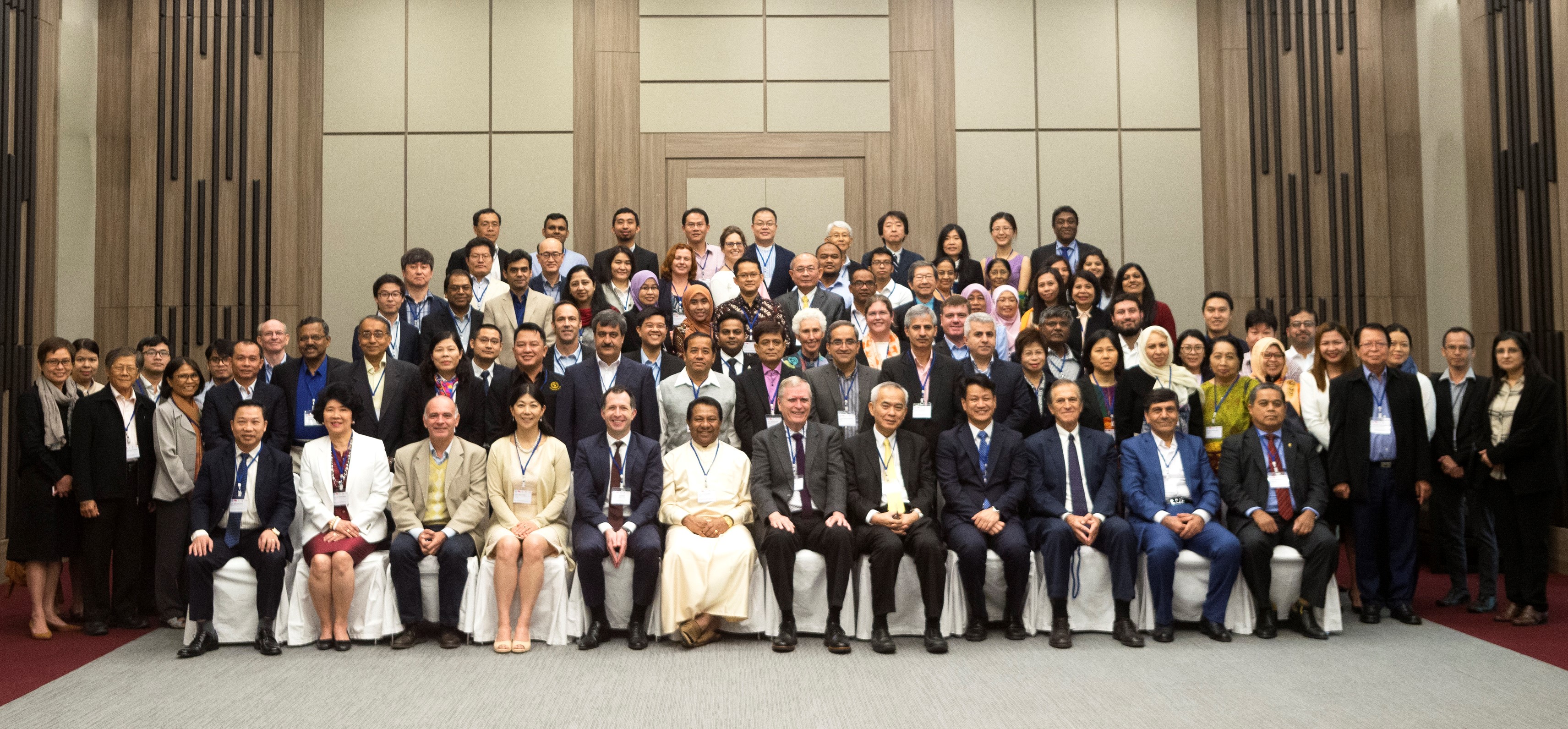 12th NTA Global Meeting The NTA working group for Asia and the Pacific held a Workshop on the Effective Use of Data for Policy Making on Aging from 5-6 December 2017 in Chiang Mai, Thailand. The workshop brought together about 100 participants from 20 participating countries and three international and regional organizations. Participants included academic experts, government officials, parliamentarians, and representatives from civil society and international organizations.
Workshop presentations, agenda, participants
New Results for Moldova
With support from UNFPA-Moldova, Expert-Grup has completed NTA estimates and a comprehensive analysis of the demographic dynamics in the Moldova economy. The report and a NTA dashboard are available here: Outside Publications that Feature NTA Results
New Global Demographic Dividend Estimates
New estimates of demographic dividends for 166 countries around the world are now available. The estimates were constructed in cooperation with the United Nations Population Division in conjunction with the 50th United Nations Commission on Population and Development. More information including downloadable data are available here: Dividend Data
---
Counting Women's Work Project
| | | |
| --- | --- | --- |
| | | This NTA project has developed methods for using time-use data to estimate the monetary value of unpaid services produced and consumed by gender and age groups. Combining estimates for the market and the household with the age dimension in a cross-national comparative context will bring women's total economic contributions into view and establishes sound terms of public discussion and policy debate around issues of gender and the economy. For more information see NTA Bulletin 11: Counting Women's Work: Measuring the Gendered Economy in the Market and at Home and the CWW website. |
---
Recent NTA Publications
NTA Bulletin 13: What Do We Learn When We "Count Women's Work?"
Standard measures of economic activity leave out one extremely important component of production and consumption―the unpaid care and household services most often provided by women. Adding unpaid services to measures of economic activity shows that women are not an "untapped" source of labor. Policymakers looking to increase female participation in the formal labor market need to keep in mind that women are already working as much or more than men. In some societies, the time that adolescent girls and young women spend on unpaid housework may be limiting the time they have available to pursue an education. Taking account of unpaid care and housework substantially increases the cost of raising children but also shows that the elderly, who often contribute substantially to care and housework, are not as heavy a burden on their families as sometimes suggested.%
Download PDF: NTA Bulletin 13

All issues of the NTA Bulletin
---
NTA Bulletin 12: Sharing the Demographic Dividend: Findings from Low- and Middle-Income Countries in Asia
Recent work by NTA teams in Asia has shed light on how both the contributions and benefits associated with population change are shared-—among age groups, between genders, among income groups, and between urban and rural residents. Better insights into these distributional issues can help policymakers maximize the potential of demographic change to stimulate economic growth and reduce the disparities among population groups.

Download PDF: NTA Bulletin 12

All issues of the NTA Bulletin
---
Second National Transfer Accounts Data Sheet: August 2016
NTA's second data sheet provides estimates of 23 variables for 59 countries in Africa, East Asia and the Pacific, South and Southeast Asia, Latin America and the Caribbean, North America, and Europe. Estimates cover per capita consumption by children and the elderly, support ratios, fiscal support ratios, human-capital spending, labor income of young adults, and sources of economic support for children and the elderly.

Downloads:
PDF file: NTA Data Sheet 2016
Excel file: NTA Data Sheet 2016 excel
---
For a more complete list of NTA publications, go to the Publications section.
Recent Scholarly Publications by NTA Members
Mason, Andrew, and Sang-Hyop Lee (2019). Demographic dividends: Policies based on an understanding of population dynamics will help countries achieve the SDGs. In SDGs: Transforming our world. 2019 edition. United Nations Association. UK.
Taking advantage of the opportunities and responding to the challenges presented by the demographic transition require forward-looking policies that take account of population dynamics.... The success of the 2030 Agenda for Sustainable Development, which pledges that no one will be left behind, is strongly bound to anticipating and planning for the effects of the demographic transition that will unfold during the SDG period.
Narayana, M.R. (2018). Accounting for growth effects of age structure transition through public education expenditure: New macroeconomic evidence from India. South Asian Journal of Macroeconomics and Public Finance. 7(2): 174-211.
Abstract: This article quantifies the economic growth effects of the transition in population age structure associated with public education expenditure. Using the National Transfer Accounts' (NTA) First Demographic Dividend (FDD) model, growth effects are measured as the impact of current public education expenditure on the economic support ratio (ESR) and on labour productivity. The age-structure transition reduces the education dependency ratio (EDR) at all levels of education, but the greatest impact is in elementary education through a long-term decline in enrolment even when maintaining the current gross primary enrolment ratio at close to 100 percent. The potential savings from enrolment decline at the primary level could provide resources to finance the investment requirements for secondary and higher education. If current public education spending is reallocated toward secondary and higher education, the growth effects are shown to be positive and high and to last up to 2050, explained largely by increases in labour productivity. These results and implications are of general relevance for other developing countries in South Asia and elsewhere in the world.
---
Abrigo, Michael R.M., Sang-Hyop Lee, and Donghyun Park (2018). Human capital spending, inequality, and growth in middle-income Asia. Emerging Markets Finance and Trade. 54(6): 1285-1303. This article is also available as Asian Development Bank Economics Working Paper 529.
Abstract: Asia's rapid population aging fortifies the case for strengthening human capital investments. Further, the experience of the newly industrialized economies suggests that human capital investments will be a vital ingredient of the transition from middle income to high income. Those investments can also affect equity and public finances. In this article, we use data from the National Transfer Accounts to empirically analyze the effect of human capital investment in Asian countries on economic growth, inequality, and fiscal balance. Our empirical evidence suggests that human capital investments have a positive effect on labor productivity and, hence, output. The positive effect is stronger for poorer households and, hence, beneficial for equity. We also find that such investments can generate sufficient tax revenues to improve the fiscal balance. Overall, our evidence points to a positive effect of human capital on growth, equity, and fiscal balance in Asia.
---
Ha, Joonkyung, and Sang-Hyop Lee (2018). Population aging and the possibility of a middle-income trap in Asia. Emerging Markets Finance and Trade. 54(6): 1225-38. This article is also available as Asian Development Bank Economics Working Paper 536.
Abstract: We present three conditions for a demography-driven middle-income trap and show that many economies in East, South, and Southeast Asia satisfy all of them. The conditions involve (1) the support ratio of workers to consumers has an impact on economic growth, (2) economic development accompanies more investment in human capital and lower fertility due to the quantity–quality trade-off, and (3) a current low level of fertility corresponds to very low support ratios for keeping up with frontier economies in the long run. Panel analysis for 178 countries shows that (1) and (2) are satisfied for Asia with higher elasticity than others. As for (3), we set up a dynamic model for simulations, showing that approximately two-third of Asia's developing countries have an unsustainable level of support ratios, implying possibility of a middle-income trap due to future demographic headwinds.
---
Gal, Robert Ivan, Pieter Vanhuysse, and Lili Vargha (2018). Pro-elderly welfare states within child-oriented societies. Journal of European Public Policy. 25(6): 944-58. This article was republished as Chapter Nine in Marius R. Busemeyer, Caroline de la Porte, Julian L. Garritzmann, and Emmanuele Pavolini, eds. (2018) The future of the social investment state: Politics, policies, and outcomes. London: Routledge.
Abstract: Families and policies both are main vehicles of intergenerational transfers. Working-age people are net contributors; children and older persons net beneficiaries. However, there is an asymmetry in socialization. Working-age people pay taxes and social security contributions to institutionalize care for older persons as a generation, but invest private resources to raise their own children, often with large social returns. This results in asymmetric statistical visibility. Elderly transfers are near-fully observed in National Accounts; those to children much less. Analysing 10 European societies, we employ National Transfer Accounts to include public and private transfers, and National Time Transfer Accounts to value unpaid household labour. All three transfer channels combined, children receive more than twice as many per-capita resources as older persons. Europe is a continent of elderly-oriented welfare states and strongly child-oriented parents. Since children are ever-scarcer public goods in aging societies, why has investment in them not been socialized more?
---
Mason, Andrew, and Ronald Lee (2018). Intergenerational transfers and the older population. In National Academies of Science, Engineering, and Medicine. Future directions for the demography of aging: Proceedings of a workshop. Washington, DC: The National Academies Press, pp.187-214.
Introduction: Economic behavior varies in fundamental and important ways over the life cycle. Early, and again late in life, people consume more than they produce through their labor. In between these two phases of the life cycle, people produce more through their labor than they consume. The life cycle gives rise to institutions and economic systems that facilitate the reallocation of resources from one age to another. Intergenerational transfers constitute an essential part of the reallocation system, with governments and families playing distinctive roles. Families play a central role in child rearing with large intergenerational transfers of money and time from parents, and to some extent grandparents, to children. In some societies, intergenerational family transfers are also an important part of the old-age support system. Governments also are heavily involved in intergenerational transfers through public programs for education, health care, and pensions. Assets, in their varied forms including debt, provide another mechanism by which resources can be shifted from one age group to another. Young people can consume more than they produce by relying on credit—student loans or credit card debt, for example. Seniors can rely on wealth acquired.
---
Matsukura, Rikiya, Satoshi Shimizutani, Nahoko Mitsuyama, Sang-Hyop Lee, and Naohiro Ogawa (2018 in press). Untapped work capacity among old persons and their potential contributions to the silver dividend in Japan. The Journal of the Economics of Ageing.
Abstract: In contemporary Japan, the utilization of healthy old persons in economic production is an urgent policy issue. We have measured the untapped work capacity of old persons using the microdata gathered in the Japanese Study of Aging and Retirement (JSTAR), a longitudinal survey carried out on subjects age 50–75. Our results show a vast untapped work capacity of the Japanese elderly age 60–79, amounting to more than 11 million workers at present. We applied the National Transfer Accounts (NTA) framework to quantify the potential effect of this untapped work capacity on economic growth. The accumulated effect is substantial in the long term, generating a sizable so-called "silver dividend". We have also examined the issue of whether or not the use of untapped work capacity provided by old persons could affect the well-being of workers in other age groups. The regression results support the view that the substitutability between the elderly and the young is negligible, so that utilization of the potential work capacity of old persons is unlikely to pose any serious threat to the employment opportunities of the young in Japan.
---
Narayana, M.R. (2018). Organizing old age pensions for India's unorganized workers: A case study of a sector-driven approach. The Journal of the Economics of Ageing. https://doi.org/10.1016/j.jeoa.2018.04.001.
Abstract: About 88 percent of India's total labor force is composed of informal (officially labeled "unorganized") workers. As many as 388 million such workers lack old-age income security by way of a pension system. The Atal Pension Yojana (APY) is the latest contributory, national-level old-age pension scheme for unorganized workers, with an entry age of 18–40 years. In other words, all current unorganized workers above the age of 40 are excluded. How could a national pension system viably guarantee equal pension benefits to all current unorganized workers? This paper considers how such a system might work by offering a case study of a non-contributory pension scheme for building and other construction workers in Karnataka State, India. The results indicate that this state-level pension scheme, fully funded by sector-specific receipts, is financially viable and sustainable with high levels of coverage and adequacy. Additional analyses outline the scenarios under which pension benefits could be extended to all informal workers in the sector studied.
For a more complete list of scholarly publications by NTA members, go to the Publications section.
---
NTA Classics
For a more complete list of NTA publications, go to the Publications section.
Other Publications that Feature NTA Analysis
Olanrewaju Olaniyan, Adedoyin Soyibo, et al., 2018. Harnessing the Demographic Dividend for Sustainable Development: 2016 Demographic Dividend Report of Nigeria
This comprehensive report on the Demographic Dividend incorporates up-to-date demographic data and newly available NTA estimates for 2016.
Demographic dividend Nigeria 2016
2015-2016 World Bank and International Monetary Fund Global Monitoring Report
| | |
| --- | --- |
| | The 2015-2016 World Bank and International Monetary Fund Global Monitoring Report (GMR) focused on demographic trends that will impact future economic growth and development. Analyses of NTA data took center stage in the discussion of how changing population age structures shape development trajectories in many countries. GMR 2015/2016 link, and online snippets are available HERE. |
Website on the Demographic Dividend
A website, co-hosted by the Bill & Melinda Gates Institute for Population and Reproductive Health at the Johns Hopkins Bloomberg School of Public Health and the Population Reference Bureau, prominently features NTA's work on the Demographic Dividend in Africa. The objective is to host resource materials available from a number of organizations engaged in research, advocacy, and policy work related to the demographic dividend. Organizations are encouraged to share their collective and individual contributions to the research literature and base of policy communication materials on the demographic dividend by emailing either a link or a PDF file.
Video featuring NTA work on the Demographic Dividend
The Graying of the American Economy: Fiscal Math Is Daunting: Federal Reserve Bank of Atlanta's 2015 Annual Report
Gretchan Donehower provided NTA information to the Atlanta Federal Reserve Bank on taxes and social contributions paid and public benefits received by age. Two NTA charts are featured in the on-line write-up of the bank's 2015 annual report.
Recent NTA Meetings
NTA: Principles, Methodology, and Construction, Moscow NRU HSE, 20-22 June 2017
A Workshop on National Transfer Accounting: Principles, methodology, and the main problems of construction was organized in Moscow on 20-22 June 2017. It was held at the National Research University Higher School of Economics. The participants represented 12 countries of Eastern Europe and Central Asia.
NTA Conference in Europe: Selected Presentations Available
The Hungarian Demographic Research Institute recently hosted a conference on National Transfer Accounts as part of the European FP7 AGENTA project funded by the European Commission. All presentations from the open session of this 3rd AGENTA Project Meeting, held in Budapest on 9 March 2017, are available online. More information about the Agenta Project is also available.
For more information about NTA meetings, go to the Meetings section.
---
NTA in the News: Recent Articles
Within the next 15 to 30 years, China will face unprecedented fiscal pressure to fund its social welfare programs in response to accelerating population aging and inevitable welfare expansion.
El objetivo de este proyecto es hacer un análisis histórico de la evolución del estado del bienestar en España y su relación con la evolución económica y demográfica.
26 February 2019: China isn't having enough babies in The New York Times. An opinion piece by Wang Feng and Yong Cai based in part on NTA research.
Changing demographics create major political tests for China's leaders, present and future. One is how to maintain growth as the population keeps aging and the work force's relative size keeps shrinking. Another is how to deliver the economic and social benefits that Chinese people now expect from the state.
For the first time, Statistics Korea has made data from the National Transfer Accounts available as a component of official government statistics. The data, which show how finances are redistributed between age groups, will be used as a basis for developing national pension and health insurance policies.
Based on NTA research, Pieter Vanhuysse finds that Europe is a continent of pro-elderly welfare states, embedded within societies composed of strongly child-oriented families.
In this article, Ronald Lee argues that the costs of Korea's low birth rate may be somewhat exaggerated.
8 July 2017: The Economist special report on aging and longevity draws on NTA analysis.
Two articles in this special report quote NTA members Andrew Mason and Ronald Lee:
A fuller list of media coverage of NTA is at NTA in the news.
The website was developed and is maintained by SchemeArts.