NTA Conference
NTA Conference on Population and the Generational Economy
Honolulu, Hawaii, June 11-12, 2010
East-West Center Imin International Conference Center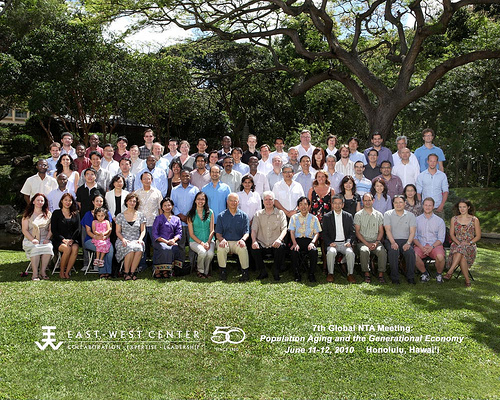 Countries around the world are experiencing enormous changes in their age structures that are affecting economic growth and security, generational equity, and the sustainability of important government programs that fund education, health care, long-term care, and pensions. Researchers and policymakers from more than 30 countries in Asia, the Pacific, Latin America, Europe, and Africa presented recent research on these issues and discussed the implications for public policy. The two-day conference was divided into six sessions, which included four sessions of paper presentations, one panel session on improving the use of research in policymaking, and one NTA business session. A total of 71 participants attended the conference, and 33 papers were presented.
Coordinators: Andrew Mason and Ronald Lee.
See the 2010 Conference Agenda, which includes pdf files of presentations.
7th Meeting List of participants