What's New

12th Global Meeting of the NTA Network: Opportunities and Challenges of the Demographic Transition for Meeting the 2030 Agenda and the Sustainable Development Goals, Mexico City, July 23-27, 2018
Agenda and Presentations
Click on each day to see the full agenda and presentations.
After welcoming remarks, Day One began with a panel discussion on Opportunities and Challenges of the Demographic Transition for Meeting the 2030 Agenda, the SDGs, and the Montevideo Consensus on Population and Development. Presentation sessions then included:
The demographic situation and NTAs in Mexico
Investment in childhood, adolescence, and youth
Gender dividend: Make women's work count
Population aging and its economic consequences
Presentation sessions on Day Two covered:
Historical perspective through NTA
Future projections
Methodological and technical innovations
Population impacts over time
Lifecycle deficits over time
Training workshops covered:
Longitudinal NTA analysis
New to NTA
Presentation sessions on Day Three covered:
NTA, socioeconomic status, and inequality
Integrating market and household economies
NTA within nations: Geography and group
New results from National Time Transfer Accounts
Older persons through the NTA lens
Training workshops covered:
NTA by SES
Lifecycle deficit
On Day Four, presentation sessions covered:
Research for age-aware policymaking
Gender dynamics of demographic dividends
Results from National Demographic Dividend Observatories
Education and demographic dividends
NTA in policy frameworks
NTA and social protection systems
There was a panel discussion on NTA and Public Policy.
Training workshops covered:
"Selling" NTA: The elevator speech
Transfers
Presentation sessions on Day Five covered:
Wealth transfers
Gender dynamics and the economic lifecycle
Intergenerational equity
Where will the workers come from?
Human capital, assets, and growth
Training workshops covered:
Generational Wealth Accounts
Asset-based reallocations
This last day also included a general membership meeting.
Photo Gallery
Photos from Day One Provided by CONAPO
Photos taken by Sidney Westley
Workshop on Effective Use of Data for Policy Making on Aging, Chiang Mai, Thailand, 5-7 December 2017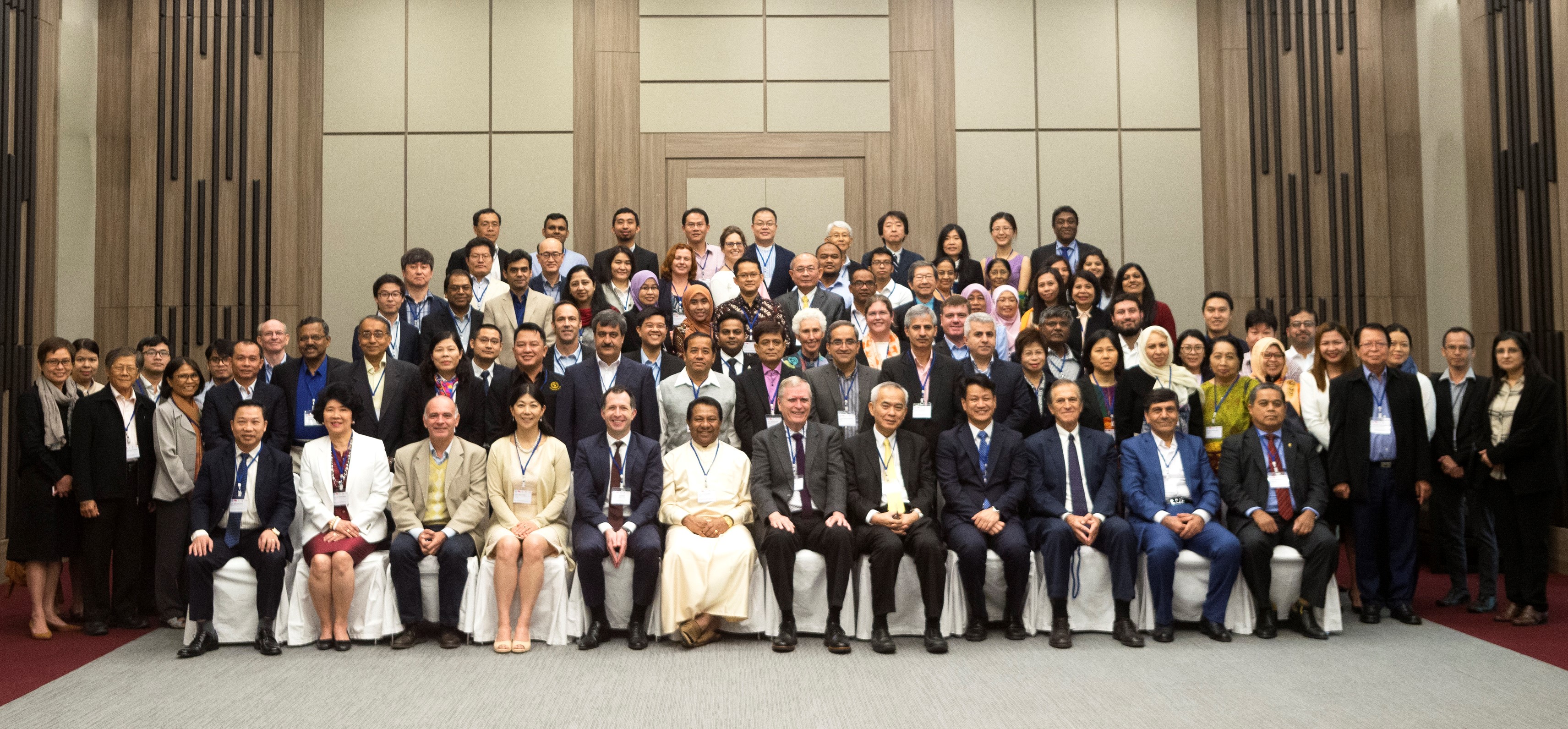 12th NTA Global Meeting The NTA working group for Asia and the Pacific held a Workshop on the Effective Use of Data for Policy Making on Aging from 5-6 December 2017 in Chiang Mai, Thailand. The workshop brought together about 100 participants from 20 participating countries and three international and regional organizations. Participants included academic experts, government officials, parliamentarians, and representatives from civil society and international organizations.
Workshop presentations, agenda, participants
New Results for Moldova
With support from UNFPA-Moldova, Expert-Grup has completed NTA estimates and a comprehensive analysis of the demographic dynamics in the Moldova economy. The report and a NTA dashboard are available here: Outside Publications that Feature NTA Results
New Global Demographic Dividend Estimates
New estimates of demographic dividends for 166 countries around the world are now available. The estimates were constructed in cooperation with the United Nations Population Division in conjunction with the 50th United Nations Commission on Population and Development. More information including downloadable data are available here: Dividend Data
---
Counting Women's Work Project
| | | |
| --- | --- | --- |
| | | This NTA project has developed methods for using time-use data to estimate the monetary value of unpaid services produced and consumed by gender and age groups. Combining estimates for the market and the household with the age dimension in a cross-national comparative context will bring women's total economic contributions into view and establishes sound terms of public discussion and policy debate around issues of gender and the economy. For more information see NTA Bulletin 11: Counting Women's Work: Measuring the Gendered Economy in the Market and at Home and the CWW website. |
---
Recent NTA Publications
NTA Bulletin 13: What Do We Learn When We "Count Women's Work?"
Standard measures of economic activity leave out one extremely important component of production and consumption―the unpaid care and household services most often provided by women. Adding unpaid services to measures of economic activity shows that women are not an "untapped" source of labor. Policymakers looking to increase female participation in the formal labor market need to keep in mind that women are already working as much or more than men. In some societies, the time that adolescent girls and young women spend on unpaid housework may be limiting the time they have available to pursue an education. Taking account of unpaid care and housework substantially increases the cost of raising children but also shows that the elderly, who often contribute substantially to care and housework, are not as heavy a burden on their families as sometimes suggested.%
Download PDF: NTA Bulletin 13

All issues of the NTA Bulletin
---
NTA Bulletin 12: Sharing the Demographic Dividend: Findings from Low- and Middle-Income Countries in Asia
Recent work by NTA teams in Asia has shed light on how both the contributions and benefits associated with population change are shared-—among age groups, between genders, among income groups, and between urban and rural residents. Better insights into these distributional issues can help policymakers maximize the potential of demographic change to stimulate economic growth and reduce the disparities among population groups.

Download PDF: NTA Bulletin 12

All issues of the NTA Bulletin
---
Second National Transfer Accounts Data Sheet: August 2016
NTA's second data sheet provides estimates of 23 variables for 59 countries in Africa, East Asia and the Pacific, South and Southeast Asia, Latin America and the Caribbean, North America, and Europe. Estimates cover per capita consumption by children and the elderly, support ratios, fiscal support ratios, human-capital spending, labor income of young adults, and sources of economic support for children and the elderly.

Downloads:
PDF file: NTA Data Sheet 2016
Excel file: NTA Data Sheet 2016 excel
---
For a more complete list of NTA publications, go to the Publications section.
Recent Scholarly Publications by NTA Members
Narayana, M.R. (2018). Organizing old age pensions for India's unorganized workers: A case study of a sector-driven approach. The Journal of the Economics of Ageing. https://doi.org/10.1016/j.jeoa.2018.04.001.
Abstract: About 88 percent of India's total labor force is composed of informal (officially labeled "unorganized") workers. As many as 388 million such workers lack old-age income security by way of a pension system. The Atal Pension Yojana (APY) is the latest contributory, national-level old-age pension scheme for unorganized workers, with an entry age of 18–40 years. In other words, all current unorganized workers above the age of 40 are excluded. How could a national pension system viably guarantee equal pension benefits to all current unorganized workers? This paper considers how such a system might work by offering a case study of a non-contributory pension scheme for building and other construction workers in Karnataka State, India. The results indicate that this state-level pension scheme, fully funded by sector-specific receipts, is financially viable and sustainable with high levels of coverage and adequacy. Additional analyses outline the scenarios under which pension benefits could be extended to all informal workers in the sector studied.
---
Narayana, M.R. (2017). Universal social pension for elderly individuals in India: Public expenditure requirements and fiscal sustainability. Indian Growth and Development Review. 10(2):89-116. https://doi.org/10.1108/IGDR-07-2017-0047.
Abstract: Public expenditure requirements for the universal social pension scheme (USPS) scenarios are remarkably higher than current expenditure on the Indira Gandhi National Old Age Pension Scheme (IGNOAPS). Short-term analyses offer economic justifications for an increase in pension benefits either by a single adjustment factor or combined adjustment factors. Long-term analyses show that the IGNOAPS and proposed USPS scenarios are fiscally sustainable but sensitive to five parameters (productivity growth, inflation rate, discount rate, income elasticity public pension expenditure and income elasticity of health expenditure).
---
Temple, Jeromey B., James Mahmud Rice, and Peter F. McDonald (2017). Mature age labour force participation and the life cycle deficit in Australia: 1981-82 to 2009-10. The Journal of the Economics of Ageing. 10: 21-33. http://dx.doi.org/10.1016/j.jeoa.2017.08.001.
Abstract: With inexorable population ageing, successive Australian governments have sought to implement policies, on both the production and consumption side, that place a greater onus on older citizens to be financially self-sufficient as a means of offsetting costs due to ageing. Over the previous 30 years, a time of considerable labour market growth and policy change, mature-age labour force participation increased significantly in Australia. In this paper, we utilise the National Transfer Accounts methodology to examine the impact that the increases in mature-age labour force participation have had on the Life Cycle Deficit – the difference between what age groups consume and what they produce through their own labour. We expected and found that the age entering the life cycle deficit is strongly influenced by changing patterns of mature-age labour force participation. Both cross-sectional and cohort analyses show that over this 30-year time horizon, the ages at which the life cycle deficit moves from positive to negative territory and vice versa have gradually increased over time. The growth in mature-age labour force participation since the turn of this century has led to large increases in mature-age labour income, the most important effect of which appears to have been a substantial increase in private saving by mature-age Australians. Implications of a recent slowing in mature-age labour force participation in Australia are discussed.
---
Dramani, Latif and Oga, Idossou Jean-Bapiste (2017). Understanding demographic dividends in Africa: The NTA approach, Journal of Demographic Economics, doi:10.1017/dem.2016.30.
---
Lee, Ronald, and Andrew Mason (2017). Cost of Aging. Finance & Development. (International Monetary Fund's quarterly publication). 54(1): 7-9.
Summary: As populations age and grow more slowly, GDP and national income growth will most certainly slow down, but the effect on individuals—-as measured by per capita income and consumption—-may be quite different. Whether population aging is good or bad for an economy defies simple answers. The extent of the problem will depend on the severity of population aging and how well public policy adjusts to new demographic realities.
---
Vargha, Lili, Robert Ivan Gal, and Michele O. Crosby-Nagy (2017). Household production and consumption over the life cycle: National Time Transfer Accounts in 14 European countries. Demographic Research. 36(32): 905-44.
Summary: We show that the nonmarket economic life cycle of men differs from that of women. The gender gap in household production is not evenly distributed over the life cycle. Women of working age contribute the most in net terms, while the main beneficiaries of household goods and services are children and to a lesser extent adult men. These patterns are similar across countries, with variations in the gender- and age-specific levels of home production and consumption.
For a more complete list of scholarly publications by NTA members, go to the Publications section.
---
NTA Classics
For a more complete list of NTA publications, go to the Publications section.
Other Publications that Feature NTA Analysis
Olanrewaju Olaniyan, Adedoyin Soyibo, et al., 2018. Harnessing the Demographic Dividend for Sustainable Development: 2016 Demographic Dividend Report of Nigeria
This comprehensive report on the Demographic Dividend incorporates up-to-date demographic data and newly available NTA estimates for 2016.
Demographic dividend Nigeria 2016
2015-2016 World Bank and International Monetary Fund Global Monitoring Report
| | |
| --- | --- |
| | The 2015-2016 World Bank and International Monetary Fund Global Monitoring Report (GMR) focused on demographic trends that will impact future economic growth and development. Analyses of NTA data took center stage in the discussion of how changing population age structures shape development trajectories in many countries. GMR 2015/2016 link, and online snippets are available HERE. |
Website on the Demographic Dividend
A website, co-hosted by the Bill & Melinda Gates Institute for Population and Reproductive Health at the Johns Hopkins Bloomberg School of Public Health and the Population Reference Bureau, prominently features NTA's work on the Demographic Dividend in Africa. The objective is to host resource materials available from a number of organizations engaged in research, advocacy, and policy work related to the demographic dividend. Organizations are encouraged to share their collective and individual contributions to the research literature and base of policy communication materials on the demographic dividend by emailing either a link or a PDF file.
Video featuring NTA work on the Demographic Dividend
The Graying of the American Economy: Fiscal Math Is Daunting: Federal Reserve Bank of Atlanta's 2015 Annual Report
Gretchan Donehower provided NTA information to the Atlanta Federal Reserve Bank on taxes and social contributions paid and public benefits received by age. Two NTA charts are featured in the on-line write-up of the bank's 2015 annual report.
Recent NTA Meetings
NTA: Principles, Methodology, and Construction, Moscow NRU HSE, 20-22 June 2017
A Workshop on National Transfer Accounting: Principles, methodology, and the main problems of construction was organized in Moscow on 20-22 June 2017. It was held at the National Research University Higher School of Economics. The participants represented 12 countries of Eastern Europe and Central Asia.
NTA Conference in Europe: Selected Presentations Available
The Hungarian Demographic Research Institute recently hosted a conference on National Transfer Accounts as part of the European FP7 AGENTA project funded by the European Commission. All presentations from the open session of this 3rd AGENTA Project Meeting, held in Budapest on 9 March 2017, are available online. More information about the Agenta Project is also available.
For more information about NTA meetings, go to the Meetings section.
---
NTA in the News: Recent Articles
In this article, Ronald Lee argues that the costs of Korea's low birth rate may be somewhat exaggerated.
8 July 2017: The Economist special report on aging and longevity draws on NTA analysis
Two articles in this special report quote NTA members Andrew Mason and Ronald Lee:
A fuller list of media coverage of NTA is at NTA in the news