What's New
New Global Demographic Dividend Estimates
New estimates of demographic dividends for 166 countries around the world are now available. The estimates were constructed in cooperation with the United Nations Population Division in conjunction with the 50th United Nations Commission on Population and Development. More information including downloadable data are available here:
http://ntaccounts.org/web/nta/show/Documents/UNPD%20Project%202016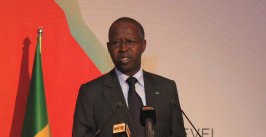 The 11th Global NTA Meeting began on 20 June 2016 with a one-day High Level Symposium on the Demographic Dividend and Development in Africa. The Prime Minister of the Republic of Senegal, H.E. Mahammad Boune Abdallah Dionne, opened the Symposium, which took place in Dakar, Senegal. In his opening remarks, the Prime Minister recommended improving policies and increasing investment in youth employability.
During the Symposium, the Prime Minister was joined by former African presidents, ministers, leading scholars, community and religious leaders, and representatives of key regional institutions to review evidence and to discuss action needed to capitalize on the demographic dividend in Africa. Regional and global institutions represented included the Economic Community of West African States (ECOWAS), the United Nations Population Program (UNFPA), the World Bank, the African Development Bank, the Economic Commission for Africa, and the United Nations.
After the Symposium in Dakar, researchers and policy experts from Africa, Asia, Europe, Latin America and the Caribbean, and North America gathered for a four-day NTA Conference in Saly, Senegal, to present and discuss new research and policy directions related to the generational economy. From June 21-24, this group presented and discussed current and recent research on six themes:
Demographic Dividend and African Development
Counting Women's Work: Gender and Time Use
Challenges of Population Aging
Inequality and Generational Equity
The World through the NTA Lens
NTA Frontiers
More information about the Dakar High-level Symposium and the Saly NTA Conference
---
Counting Women's Work Project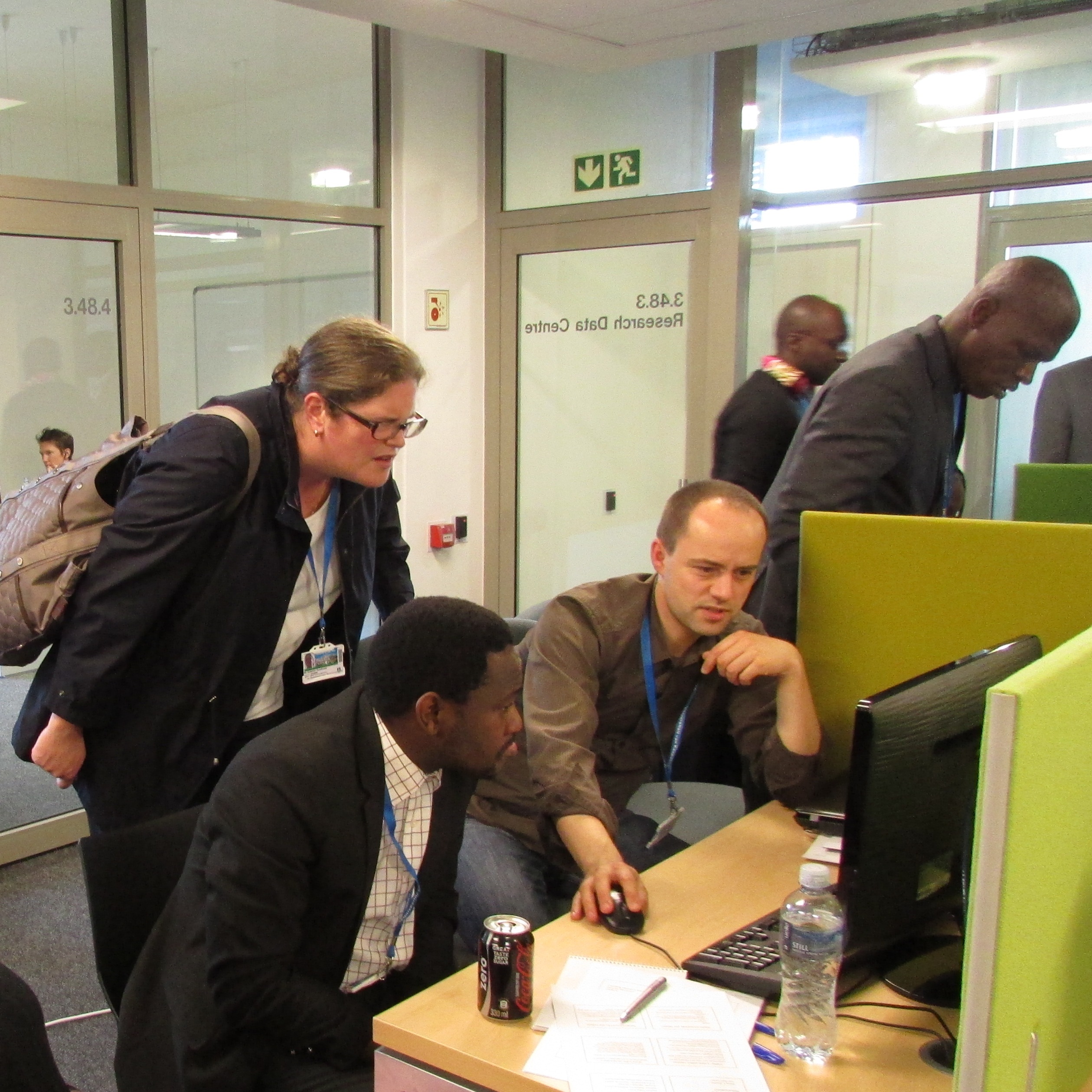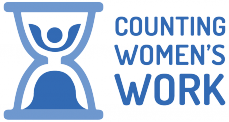 This NTA project has developed methodology for using time-use data to estimate the monetary value of unpaid services produced and consumed by specific gender and age groups. These activities are traditionally known as "women's work": cooking, cleaning, maintaining households, and caring for children and the elderly.
Combining estimates for the market and the household with the age dimension in a cross-national comparative context will bring women's total economic contributions into view and reveal patterns of difference by gender. This sets the terms of public discussion and policy debate around issues of gender and the economy.
Early results are summarized in NTA Bulletin 11: Counting Women's Work: Measuring the Gendered Economy in the Market and at Home, January 2017
See more at the CWW website.
Recent NTA Publications
Second National Transfer Accounts Data Sheet: August 2016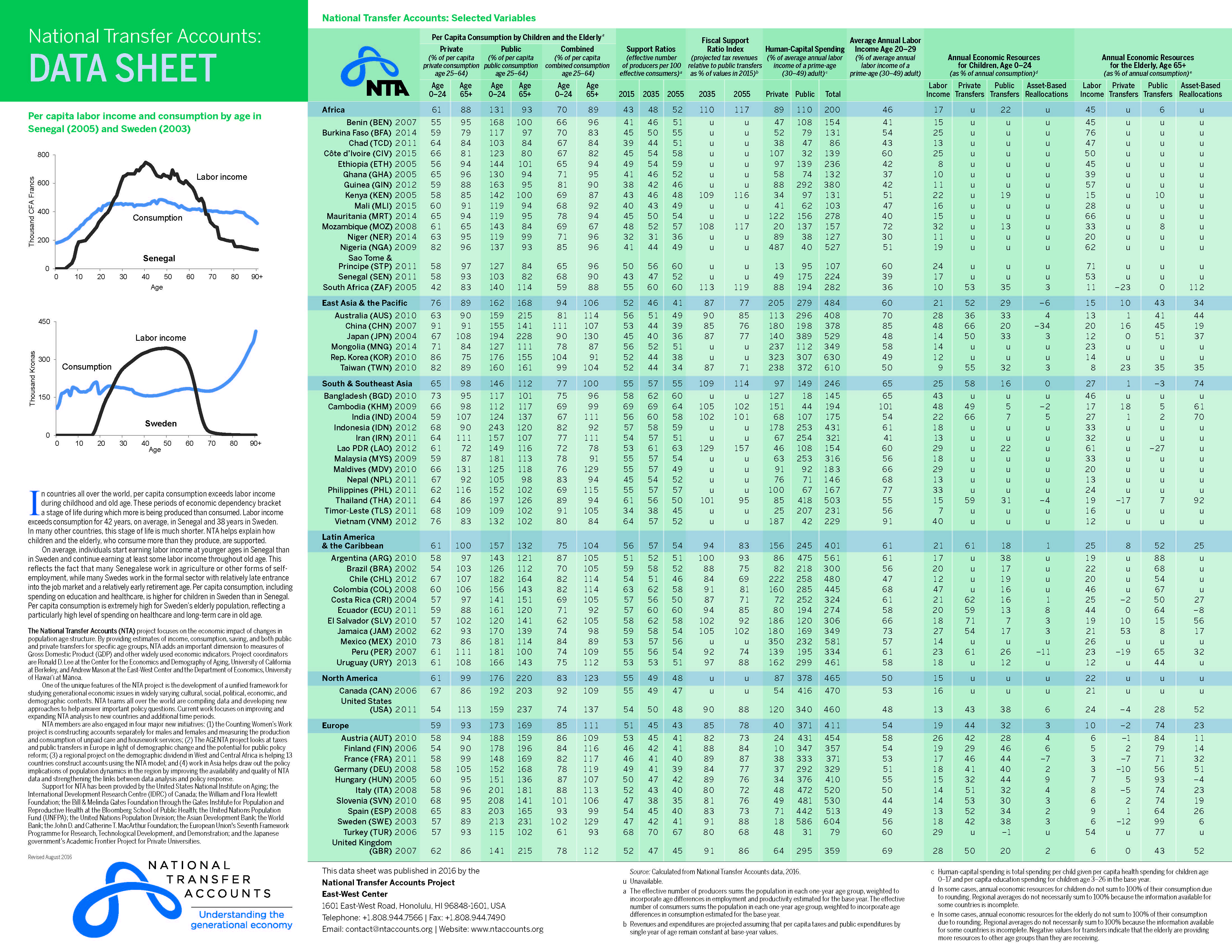 NTA's second data sheet provides estimates of 23 variables for 59 countries in Africa, East Asia and the Pacific, South and Southeast Asia, Latin America and the Caribbean, North America, and Europe. Estimates cover per capita consumption by children and the elderly, support ratios, an index of fiscal support ratios, human-capital spending, labor income of young adults, and sources of economic support for children and the elderly.
The data sheet is available for download as a pdf file at NTA Data Sheet 2016. An Excel version of the data sheet is available at NTA Data Sheet 2016 excel.
---
NTA Bulletin 11: Counting Women's Work: Measuring the Gendered Economy in the Market and at Home, January 2017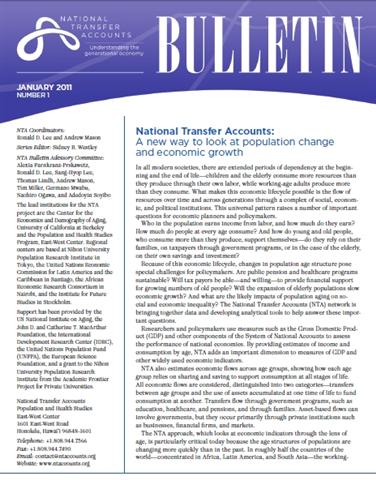 The Counting Women's Work (CWW) initiative is measuring the full economic contribution of women, including paid work in the marketplace and unpaid care and housework at home. This issue of the NTA Bulletin describes the project and reports some illustrative results from Ghana, Mexico, Senegal, the United States, and Vietnam. These examples demonstrate how CWW analysis makes it possible to quantify the differences between men and women in market work and wages, the excess total work time that most women spend relative to men, the potential barrier that household responsibilities represent to women's education and career development, and the "hidden" costs of children.
NTA Bulletin 11 is available for download as a pdf file at NTA Bulletin 11.
---
NTA Brochure
The NTA brochure was updated in May 2016 and is available in English and in French.
---
For a more complete list of NTA publications, go to the Publications section.
Recent Scholarly Publications by NTA Members
Dramani, Latif and Oga, Idossou Jean-Bapiste (2017). Understanding Demographic Dividends in Africa: the NTA approach, Journal of Demographic Economics, doi:10.1017/dem.2016.30.
---
Lee, Ronald, and Andrew Mason (2017). Cost of Aging. Finance & Development. (International Monetary Fund's quarterly publication). 54(1): 7-9.
Summary: As populations age and grow more slowly, GDP and national income growth will most certainly slow down, but the effect on individuals—-as measured by per capita income and consumption—-may be quite different. Whether population aging is good or bad for an economy defies simple answers. The extent of the problem will depend on the severity of population aging and how well public policy adjusts to new demographic realities.
---
Vargha, Lili, Robert Ivan Gal, and Michele O. Crosby-Nagy (2017). Household production and consumption over the life cycle: National Time Transfer Accounts in 14 European countries. Demographic Research. 36(32): 905-44.
Summary: We show that the nonmarket economic life cycle of men differs from that of women. The gender gap in household production is not evenly distributed over the life cycle. Women of working age contribute the most in net terms, while the main beneficiaries of household goods and services are children and to a lesser extent adult men. These patterns are similar across countries, with variations in the gender- and age-specific levels of home production and consumption.
For a more complete list of scholarly publications by NTA members, go to the Publications section.
NTA in Print and Online: The Classics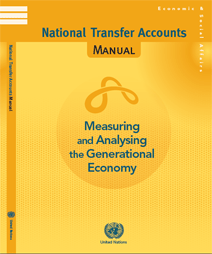 National Transfer Accounts Manual: Measuring and Analyzing the Generational Economy. New York: United Nations, 2013.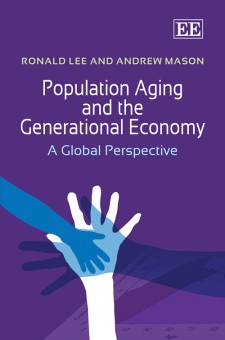 Population aging and the generational economy: A global perspective. Ronald Lee and Andrew Mason, principal authors and editors, Cheltenham: Edward Elgar, 2011.
For a more complete list of NTA publications, go to the Publications section.
Other Publications that Feature NTA Analysis
2015-2016 World Bank and International Monetary Fund Global Monitoring Report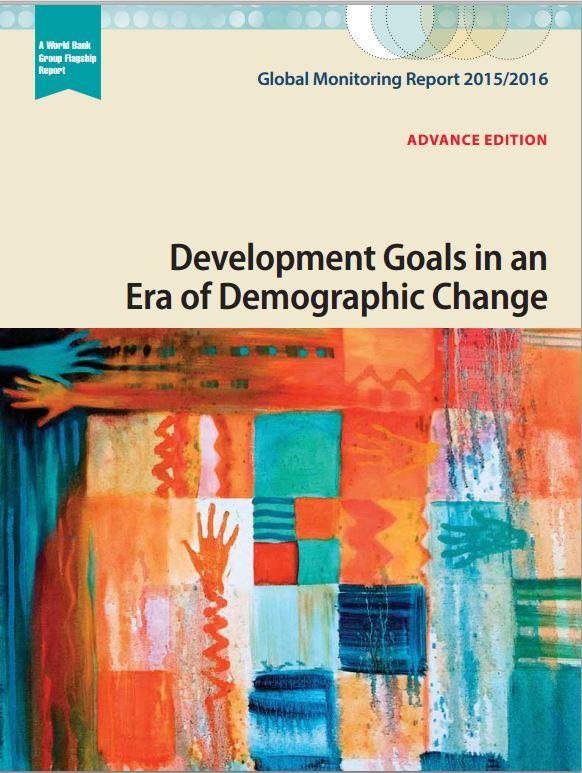 The 2015-2016 World Bank and International Monetary Fund Global Monitoring Report (GMR) focused on demographic trends that will impact future economic growth and development. Analyses of NTA data took center stage in the discussion of how changing population age structures shape development trajectories in many countries. GMR 2015/2016 link, and online snippets are available HERE.
Website on the Demographic Dividend
A website, co-hosted by the Bill & Melinda Gates Institute for Population and Reproductive Health at the Johns Hopkins Bloomberg School of Public Health and the Population Reference Bureau, prominently features NTA's work on the Demographic Dividend in Africa. The objective is to host resource materials available from a number of organizations engaged in research, advocacy, and policy work related to the demographic dividend. Organizations are encouraged to share their collective and individual contributions to the research literature and base of policy communication materials on the demographic dividend by emailing either a link or a PDF file.
Video featuring NTA work on the Demographic Dividend
The Graying of the American Economy: Fiscal Math Is Daunting: Federal Reserve Bank of Atlanta's 2015 Annual Report
Gretchan Donehower provided NTA information to the Atlanta Federal Reserve Bank on taxes and social contributions paid and public benefits received by age. Two NTA charts are featured in the on-line write-up of the bank's 2015 annual report.
Recent NTA Meetings
NTA: Principles, Methodology, and Construction, Moscow NRU HSE, 20-22 June 2017
A Workshop on National Transfer Accounting: Principles, methodology, and the main problems of construction was organized in Moscow on 20-22 June 2017. It was held at the National Research University Higher School of Economics. The participants represented 12 countries of Eastern Europe and Central Asia.
NTA Conference in Europe: Selected Presentations Available
The Hungarian Demographic Research Institute recently hosted a conference on National Transfer Accounts as part of the European FP7 AGENTA project funded by the European Commission. All presentations from the open session of this 3rd AGENTA Project Meeting, held in Budapest on 9 March 2017, are available online. More information about the Agenta Project is also available.
For more information about NTA meetings, go to the Meetings section.
---
NTA Membership
For a complete list of NTA Countries...
---
NTA in the News: Recent Articles
8 July 2017: The Economist special report on aging and longevity draws on NTA analysis
Two articles in this special report quote NTA members Andrew Mason and Ronald Lee:
10 January 2017: China Daily, Strategies for addressing demographic challenges, article by NTA's Andrew Mason.
As the Chinese government considers raising the retirement age, Mason sees several opportunities for improvement. Read the article on the China Daily website.
A fuller list of media coverage of NTA is at NTA in the news