11th NTA Workshop
Demographic Dividend and African Development: 11th Global Meeting of the NTA Network, Dakar and Saly, Senegal, 20-24 June 2016

:
The Opening of the 11th Global Meeting of the National Transfer Accounts Network and the High-level Symposium on the Demographic Dividend and Africa's Development took place in Dakar, Senegal on June 20, 2016 at the King Fahd Palace Hotel. Participants were welcomed by Prof. Matar Mour Seck, Rector of the University of Thiès, Mr. Mabingue Ngom, UNFPA Regional Director for West and Central Africa, Professor Andrew Mason, East-West Center and University of Hawaii, and Professor Latif Dramani, CREFAT, University of Thiès.
Opening session
The opening session featured keynote addresses by H.E. Jakaya Kikwete, Former President of Tanzania and H.E. Mary Teuw Niane, Minister of Higher Education and Research of Senegal.

OFFICIAL OPENING SESSION (at the top and from left to right): H.R.H Yahaya Haliru, Emir of Shonga (Nigeria); Mr. Mabingue Ngom, Regional Director for West and Central Africa (UNFPA); H.E. Jakaya Kikwete, Former President (Tanzania); H.E. Mary Teuw Niane, Minister of Higher Education and Research (Senegal); H.E. Dr. Yakubu Gowon, Former President (Nigeria).
Highlighting the benefits of child spacing and small families, the leaders stressed the need for people to be better educated on family planning. Having fewer children reduces the economic pressure on parents and allows them to invest in their children's education and health.
Moreover, they called for higher spending on family planning, nutrition, clean water, and sanitation. "Governments should put in place sound macro and micro economic policies, policies which will be conducive to promoting and accelerating economic growth and rapid job creation" declared H.E. Jakaya Kikwete, Former President of Tanzania. Fighting corruption and ensuring good governance are also critical if countries are to reap the benefits of the demographic dividend.
Counting Women's Work
The first Substantive Session, on Women's Empowerment and the Demographic Dividend, featured a presentation by Gretchen Donehower, Senior Scientist, University of California-Berkeley and co-Director of the Counting Women's Work project.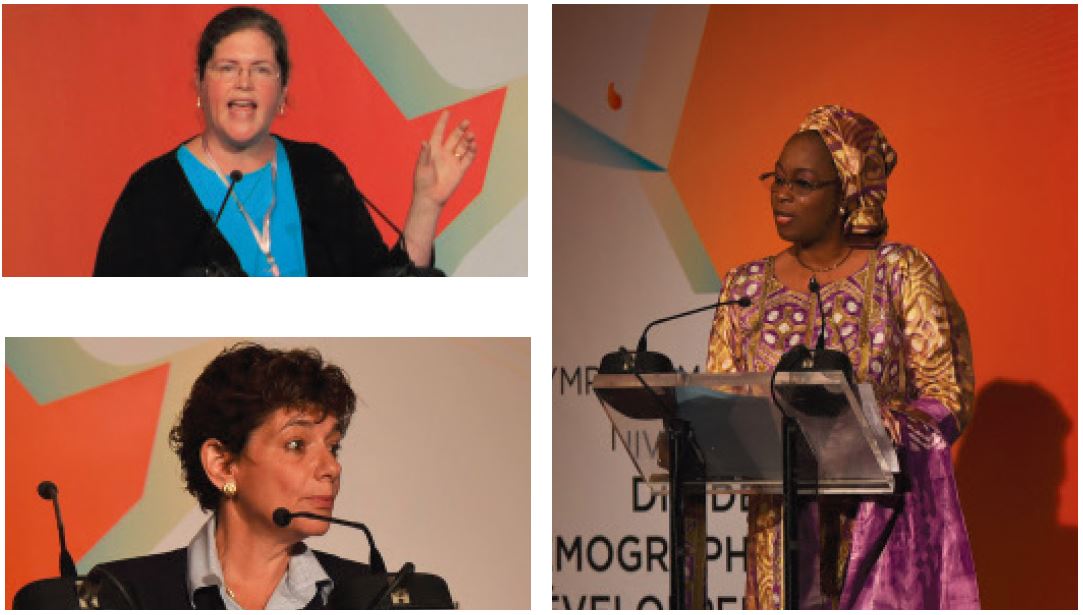 Dr. Donehower presented evidence that closing the gender gap in labor income could generate a substantial "gender dividend" in Africa, which would enhance and extend the demographic dividend. The gender gap will only be closed, however, if policies are put in place that promote women's full economic participation and address the unseen reality of women's larger share of the burden of unpaid care and housework compared to men. This gender imbalance in unpaid care and housework is not just an African phenomenon, but rather a global issue that has a negative impact on women's well-being, access to education, and potential contribution to economic growth. Commentary was offered by Dr. Justin Koffi, Regional Technical Secretariat Coordinator (UNFPA/Sahel Women's Empowerment and Demographic Dividend); Ms. Louise Cord, World Bank Representative of the Vice-President and Country Director for Senegal, Cape Verde, The Gambia, Guinea Bissau, and Mauritania; and Ms. Fatimata Dia Sow, Head of the Ouagadougou Partnership Coordination Unit.
Keynote Address by H.E. Mahammad Boune Abdallah Dionne, Prime Minister of the Republic of Senegal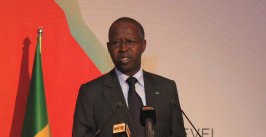 The Prime Minister of the Republic of Senegal, H.E. Mahammad Boune Abdallah Dionne, opened the high level symposium and recommended improving policies and increasing investments in youth employability. His government has allocated $45 million to professional training. Addressing the issue of governance, H.E. Mr. Dionne stressed the need to eliminate costs, such as those incurred by corruption, and to strengthen the process of developing human capital.
Panel: Demographic Dividends Around the World
The Second Substantive Session on the Demographic Dividend Around the World: Lessons and Perspectives featured presentations by Ronald Lee, University of California-Berkeley and Andrew Mason, East-West Center and University of Hawaii at Manoa.

Ronald Lee pointed out that the demographic transition changes the relative numbers of people at each age and generation. People give and receive support from others throughout their lives, in patterns that vary from country to country and region to region, as portrayed by National Transfer Accounts. After fertility begins to decline in the demographic transition, the share of children in the population begins to decline, freeing up income for other uses, and generating the First Demographic Dividend as the population share of workers rises. This Dividend is an important opportunity, but seizing it requires that the new young workers be educated, healthy, and employed. The regional age profile for Africa shows that children begin work relatively early and that youth generate relatively less income than in other regions, illustrating the challenges Africa faces. A potential Second Dividend occurs if the First Dividend is invested in human capital of the young and if it is also invested in physical capital. In this way the First Dividend, that is otherwise erased after a number of decades by population aging, can be made larger and made permanent.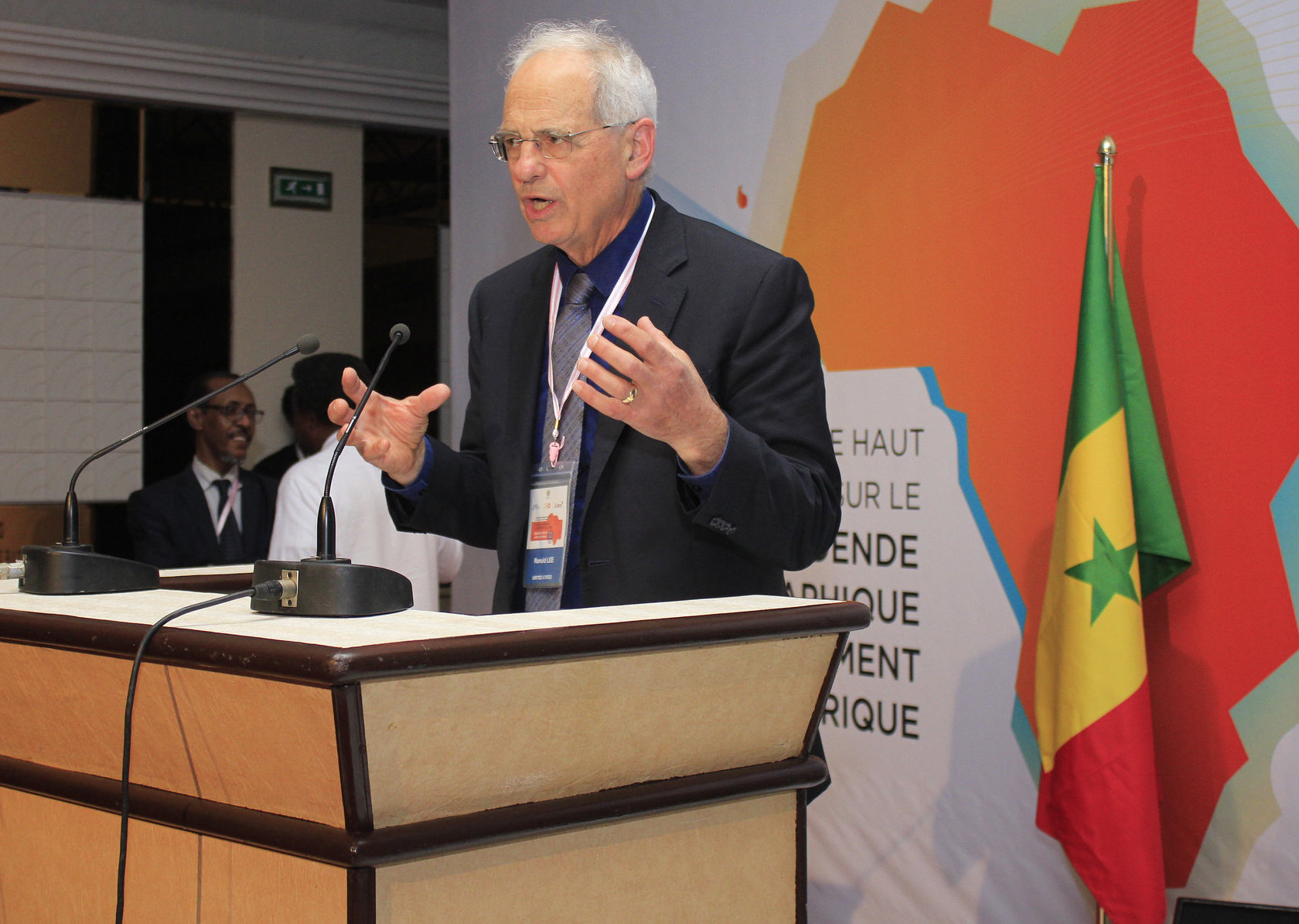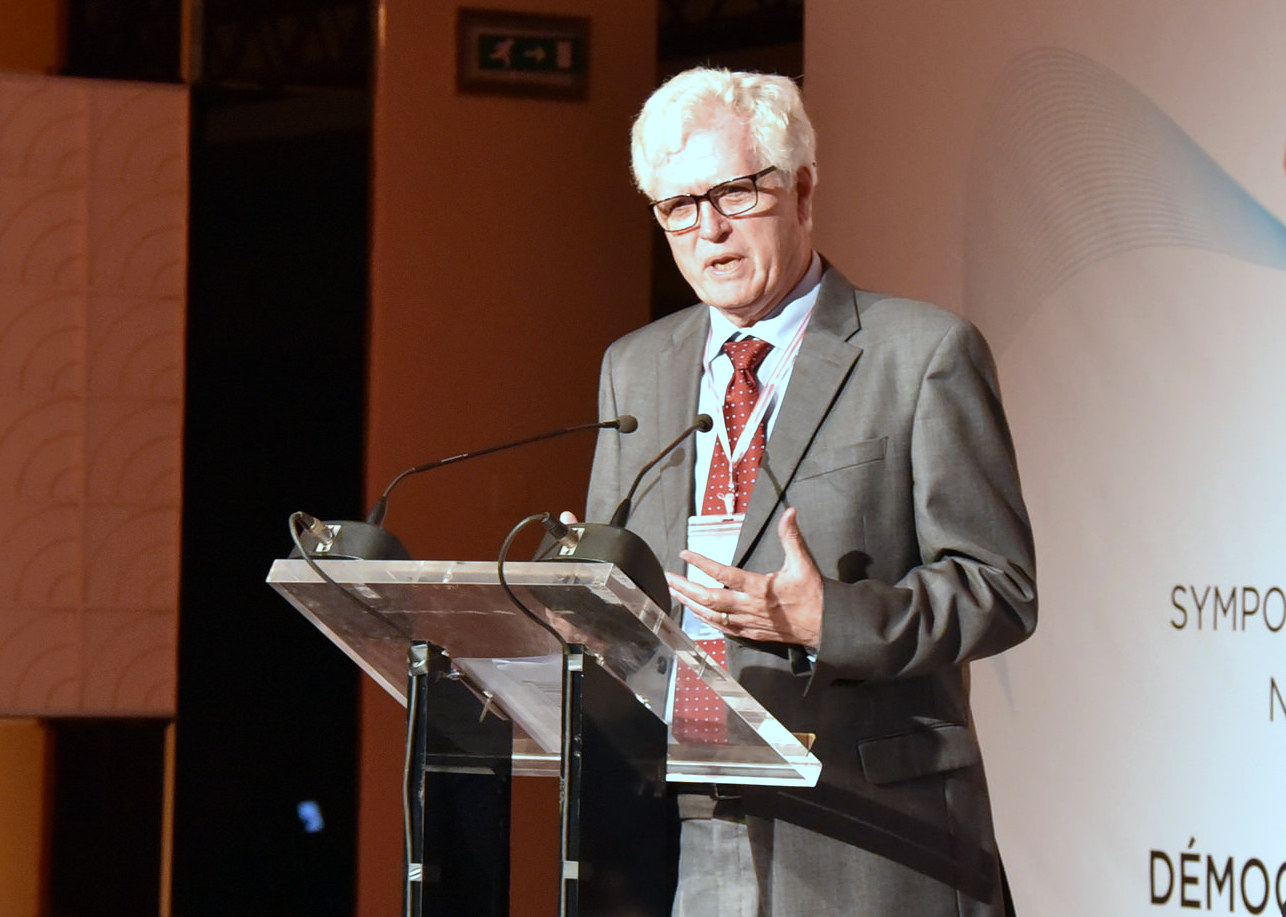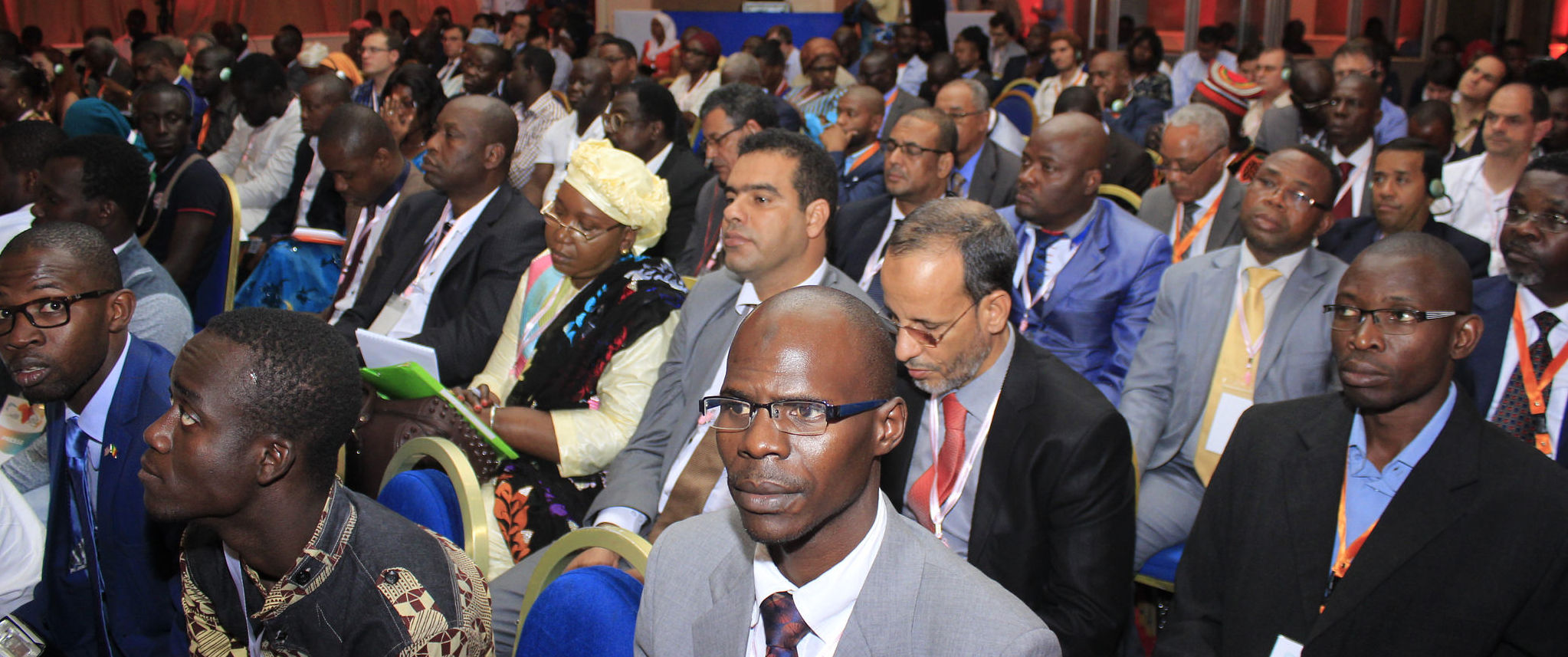 Andrew Mason discussed lessons that East Asia might offer for African countries hoping to capitalize on the demographic dividend. He stressed that the Demographic Dividend does not automatically lead to a higher economic growth path, but it does create unprecedented opportunities. Prosperity in East Asia was achieved by a combination of many sound policies and favorable circumstances, but three features of the region's development stand out. First, rapid fertility decline generated a large first dividend. Second, the dividend was used to raise spending on child health and education to very high levels. Third, a large portion of the dividend was saved and invested creating important new employment opportunities for young people just entering the labor force.
Commentary was offered by H.E. El Moctar Ould Djay, Minister of Economy and Finance (Mauritania); H.E. Amadou Ba; Hon. Munah Pelham-Youngblood, Member of Parliament and Youth Leader (Liberia); Prof. Alioune Sall, Executive Director of African Futures Institute (South Africa); and Prof. Parfait Eloundou-Enyegue, Cornell University (United States).
Panel: Demographic Dividend in Africa: Policies and Interventions
The high-level panel on the Demographic Dividend in Africa: Policies and Interventions brought together policy makers at the ministerial level, including H.E. Mariam Mahamat Nour, Representative of the Chairperson of the African Union (AU) ; H.E. Nana Oye Lithur, Representative of the President of the Organisation of African First Ladies (OAFL); the Emir of Shonga, representing religious and traditional leaders; and members of the private sector and civil society.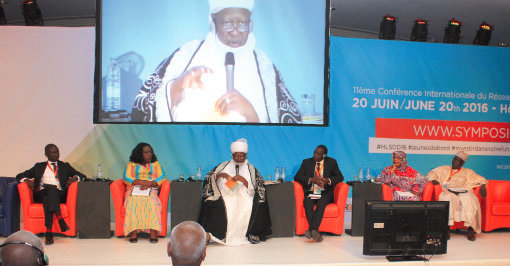 The panellists highlighted the need to strengthen partnerships with stakeholders such as the African Organisation of First Ladies, faith leaders, young people, women's groups, the media, and communities to help African governments empower youth and end child marriage. Emphasis was placed on the vital role of faith-based organizations and community leaders as agents to drive change and advocate for the reduction of high fertility and the elimination of early marriage and other harmful practices.
Panel: Sustainable Development in Africa: Perspectives of Elders
Discussion on Sustainable Development in Africa: Perspectives of Elders was led by four Former Presidents--H.E. Karl Auguste Offmann (Mauritius), H.E. Armando Emílio Guebuza (Mozambique), H.E. Dr. Yakubu Gowon (Nigeria), and H.E. Jakaya Kikwete (Tanzania), the former Prime Minister and current Special Envoy to the President of Senegal, H.E. Aminata Touré, and the 2011 Nobel Laureate, Ms. Leymah Gbowee.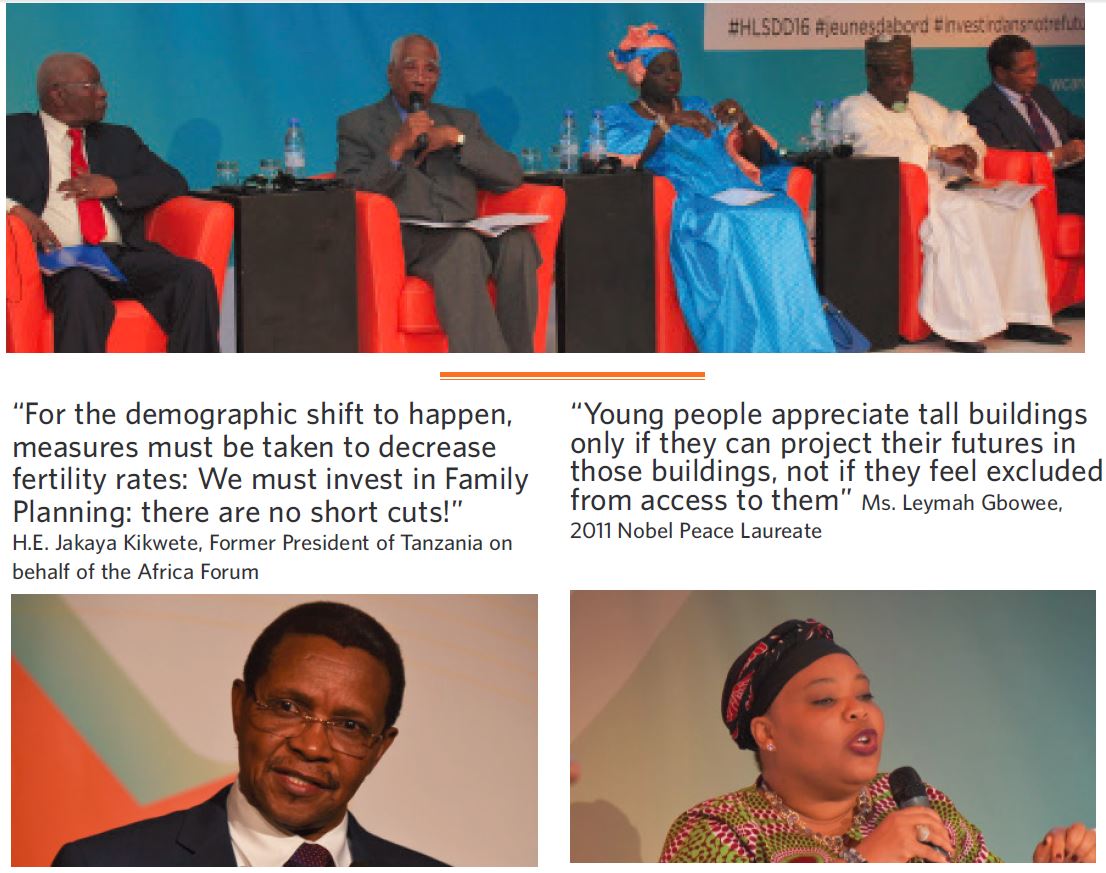 This session sought to harness the wealth of opinions and recommendations from these leaders to support the implementation of large-scale interventions on the Demographic Dividend and the achievement of both the 2030 and 2063 Agendas. They identified four actions as necessary to trigger the Demographic Dividend: initiating demographic change, improving health, enhancing education for all, and promoting economic development and good governance policies.
Dakar Presentations
Gretchen Donehower Presentation
Opening and High-level Symposium: Agenda
The Opening and the High-level Symposium were co-sponsored by the West and Central Africa Regional Office of the United Nations Population Fund (UNFPA); the Centre de Recherche en Economie et Finance Appliquées de Thiès (CREFAT); the Center for the Economics and Demography of Aging (CEDA), University of California-Berkeley, and the East-West Center.
Note: This webpage relies heavily on pictures and text from the WCARO E-Newletter on the High-level Symposium. Their generosity is gratefully acknowledged.
---
      

    
 

More than 100 researchers, policy analysts, and others gathered at Saly, Senegal, from June 21-24, 2016 to review recent and current NTA research. Seventy papers were presented and discussed. The research covered a wide range of topics of relevance to countries at all levels of economic development. Among many other highlights, research from the Counting Women's Work project provided new insights about gender equity, the role of women in the development process, and the economic implications of changing population age structure. The AGENTA project, based in Europe, reported new findings about the impact of population aging and possible policy responses. Many of the papers addressed inequality and generational equity. A much richer understanding of Africa is emerging based on presentations by countries in Francophone Africa that have recently joined the NTA project under the auspices of CREFAT, UNFPA, and SWEDD. Presentations, grouped into six broad themes, can be found by clicking on these links. (Note that presentations are being uploaded as they become available.):
---
For the First NTA Visualization Challenge, five NTA researchers submitted new ways to visually represent NTA results. Congratulations to all of the entrants and especially to the top three winners: Michael Abrigo, Ricardo Cantu, and Bernhard Hammer. Here is Michael Abrigo's representation of the evolution of the support system over the life cycle. The triangle graphs show how the share of consumption funded by net transfers, labor income, and asset-based reallocations changes over five-year age intervals. Countries at different income levels are compared. At birth, people are entirely dependent on transfers to fund their consumption, but as they age they increasingly substitute labor income for transfers, while barely relying on asset income or dis-saving in low- and high-income countries, but not middle-income countries. Between age 30 and 60, people have labor income in excess of consumption (a life cycle surplus), but they also increasingly rely on asset-based reallocations to supplement labor income. Both sources are needed as prime-age adults must fund not only their own consumption but also large net transfer outflows to children and, in many countries, to the elderly. At around age 60 people in all three income groups begin to be net receivers of transfers. After age 60 they rely increasingly on transfers and asset income, and less on work, trending toward 1/3 asset income and 2/3 transfers after age 70. Very late in life, the elderly rely even more on net transfers in middle- and high-income countries.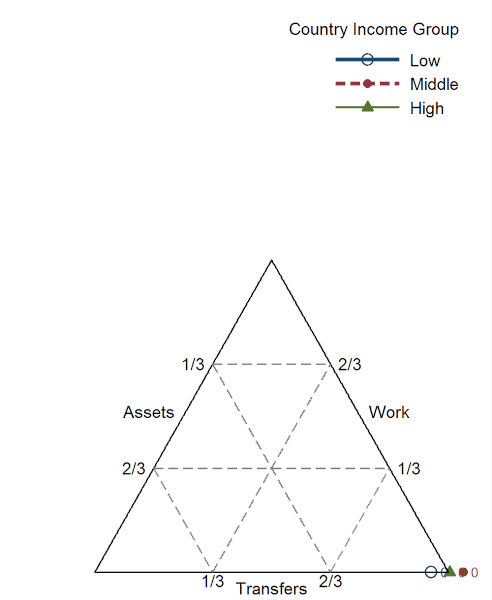 For all the entries, click here.
Book launch: Demographic Dividends in Senegal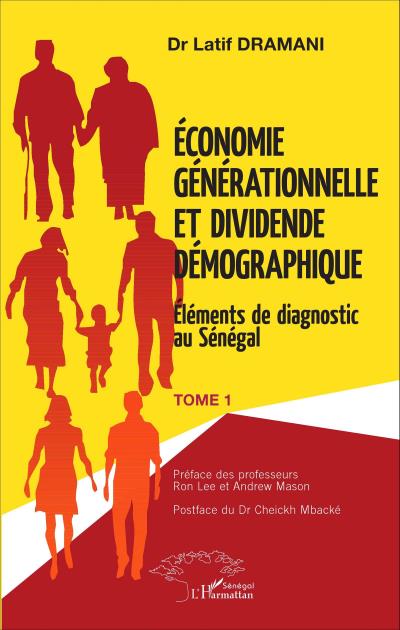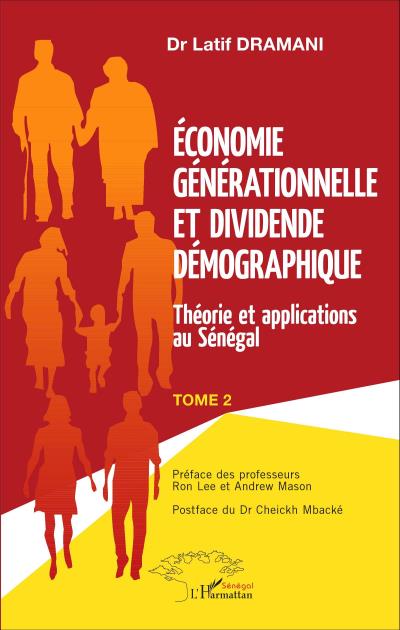 'Dramani, Latif (2016). Economie générationnelle et dividende démographique Éléments de diagnostic au Sénégal, Tome 1. Paris: L'Harmattan.'
'Dramani, Latif (2016). Economie générationnelle et dividende démographique Théorie et applications au Sénégal, Tome 2. Paris: L'Harmattan.'
Editor's note: La théorie de l'économie intergénérationnelle, en réunissant plusieurs disciplines, permet de comprendre l'impact sur l'économie des questions démographiques (fécondité, vieillissement, etc.) et sociologiques (éducation, travail, etc.). Dans cet ouvrage, l'auteur s'attache à poser le diagnostic des dynamiques de pauvreté au Sénégal ainsi que celui de la situation de l'emploi, de la santé ou de l'éducation.
Link: http://www.editions-harmattan.fr/index.asp?navig=catalogue&obj=livre&no=50063
Book launch: Demographic Change in Uruguay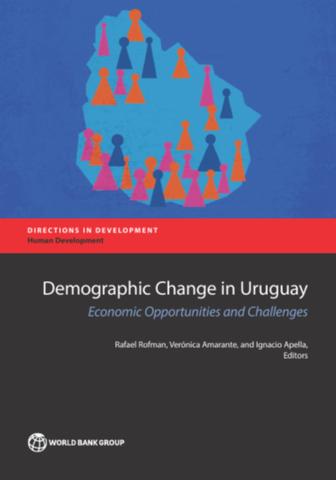 Rofman, Rafael; Amarante, Verónica; Apella, Ignacio. 2016. Demographic Change in Uruguay : Economic Opportunities and Challenges. Directions in Development--Human Development;. Washington, DC: World Bank. © World Bank. https://openknowledge.worldbank.org/handle/10986/24358 License: CC BY 3.0 IGO.
Co-sponsors
Center for Economics and Demography of Aging, University of California at Berkeley
East-West Center
Centre de Recherche en Economie et Finance Appliquees de Thies (CREFAT)
United Nations Population Fund
Additional support from the following gratefully acknowledged:
Ouagadougou Partnership
CISCO
Eiffage
SOCOCIM
Tigo
University of Hawaii at Manoa

---